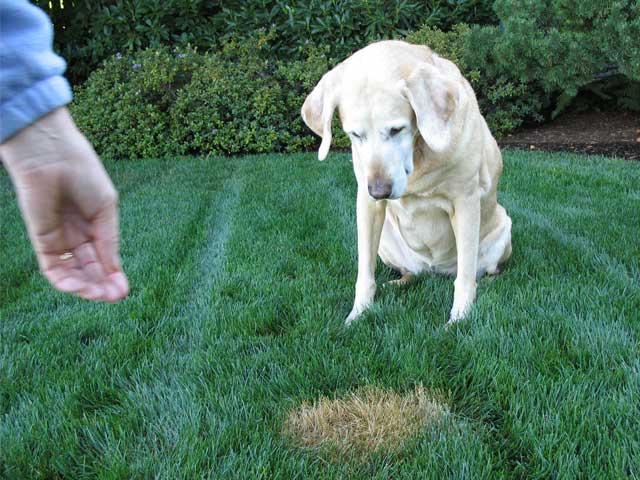 Dog urine damage is a common problem that many homeowners are challenged with. This can be frustrating and damage can be difficult to prevent from occurring. There are numerous home remedies and retail products that claim to correct or prevent this problem, but most are ineffective and some can make the problem even worse.
Dog urine contains a high concentration of nitrogen which causes the injury or death to the turf. Nitrogen is good for the lawn, but when urine is deposited in one small spot the amount of nitrogen is excessive and causes damage. The damaged areas generally appear burned in the center with a dark green halo around the edges.
Successfully treating and preventing dog damage from occurring requires a multi-step approach. Here are some helpful recommendations to keep in mind:
Designate specific areas preferably non-turf areas such as gravel, mulch, or unmaintained areas and train your dog to do its business here.

If you do not have any non-turf areas for your pet to do its business, select low profile locations that will not be a noticeable aesthetically.

Flush areas immediately with water after your pet has done its business, this will help dilute the concentration of nitrogen.

Encourage your pet to drink lots of water, increased water consumption will help dilute the urine reducing the potential for damage.

Reduce stress on your lawn by following the recommended mowing practices and irrigation requirements.
Depending on the extent and severity of the damage, dog spots may require minor renovation. An aggressive core aeration, and overseeding in generally adequate to help repair this damage. Hand spot seeding with a soil mixture is also a good alternative for small spots. In extreme cases, slitseeding may be required and applications of gypsum can be applied to help neutralize salt concentration in soils.
Still curious about what you can do to improve your lawn health? Click HERE to read more on "10 Steps to an Organic Lawn"