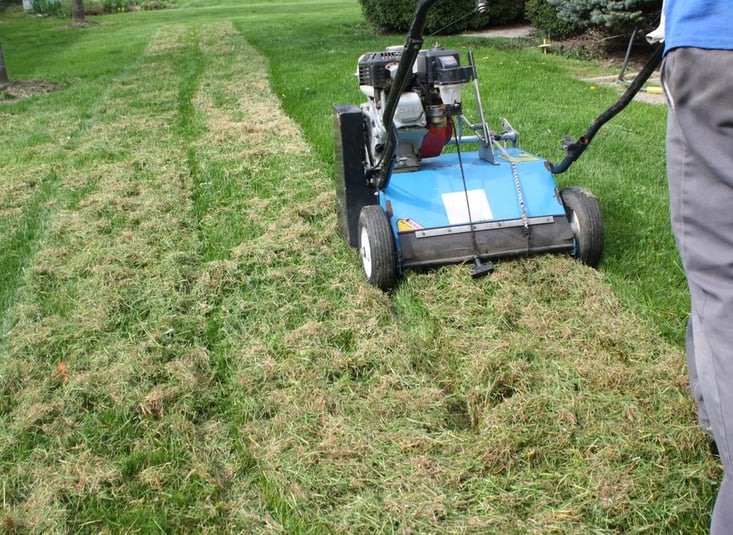 If you're beginning your spring turf care in Vancouver, you may need to take a look at the level of thatch on your lawn. Thatch is composed of both living and dead plant matter, and can prevent water, air, and nutrients from nourishing your lawn. Don't wait for your lawn to slowly suffocate! Contact Nutri-Lawn's Vancouver turf maintenance experts and book one of our beneficial dethatching treatments today!
Dethatching vs. Power Raking
Nutri-Lawn offers two very different options for your turf care in Vancouver: dethatching and power raking.
If your lawn has an extremely thick layer of thatch (3 inches or more), dethatching is probably the best solution for you.
However, dethatching can put stress on your lawn. So if you just have a light thatch covering, then power raking is the more ideal alternative.
If your lawn has very little thatch covering, our Vancouver turf maintenance experts recommend booking core aeration services along with a power raking treatment.
Dethatching and Your Vancouver Turf Maintenance: The Nutri-Lawn Approach
When you use Nutri-Lawn's turf care in Vancouver services to dethatch your lawn, we won't just improve your lawn's breathability. We will also cut through the thatch layer with knife-like blades and remove the debris safely. During the treatment, Nutri-Lawn will first wet the soil a bit so we can prevent the equipment from tearing any healthy turf.
Before your dethatching appointment, mow your lawn to its recommended height and take the time to mark all obstacles, such as sprinkler heads or shallow irrigation pipes. You want to avoid costly repairs to your irrigation system following an unnecessary dethatching accident!
Nutri-Lawn will then use a vertical mower or power rake to make two passes perpendicular to each other in the thatch layer. If the thatch is extremely thick, we won't attempt to remove it all in one day, as dethatching can be hard on your lawn. If you try to remove a thick layer of thatch in one day, your lawn could be reduced to dirt by the time it's all over. However it takes pain to make a beautiful lawn.
After the dethatching treatment, there will be quite a bit of debris on your lawn. This will need to be bagged and removed from the property in order to prevent it from further suffocating your lawn. If your lawn mower has a grass collection system, it might be simpler to give your lawn a once-over with the mower.
Since dethatching is a stressful process for your lawn, you will want to follow it up with a lot of TLC for your lawn. We recommend following it up with some fertilization or a nutrient-rich topsoil and irrigation.
What Time of Year is the Best to Dethatch?
The best time of year to dethatch is right before the lawn's vigorous spring growth cycle. Since the grass has not had a chance to come up yet, it will be easy to get at the thatch.
Alternatively, you can prepare your lawn for the cool season and incorporate this into your turf care in Vancouver from late August to early October. Your grass will begin to regrow vigorously in the fall and should recover from the process. Fall dethatching is also a good idea because weeds are not germinating at this time, so the grass will not need to compete with them. If you dethatch in the fall, do it about 30 days before the end of the mowing season.
Spring or fall, if your grass feels a little too soft and the thatch is mounting, contact our Vancouver turf maintenance services for a free quote. Nutri-Lawn's quality, environmentally friendly practices will put you and your lawn at ease.