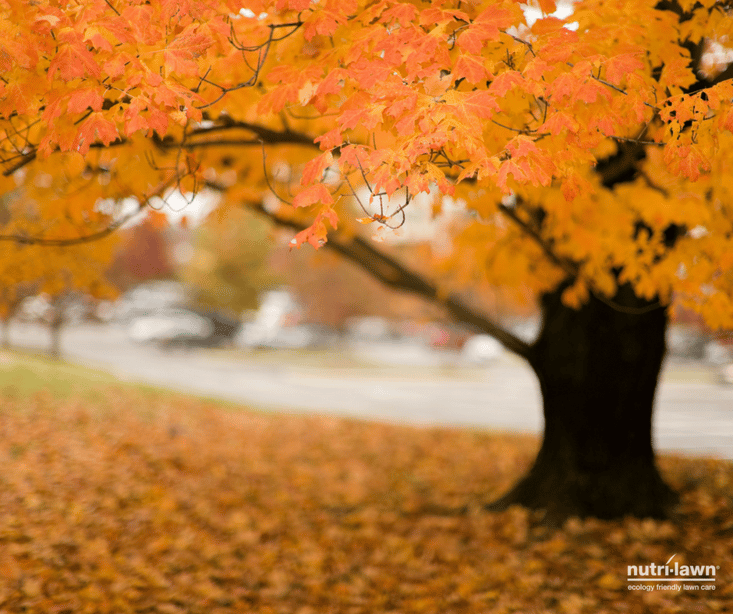 Now that leaves are starting to turn in Ottawa, temperatures are falling and you're seeing "pumpkin spice" everywhere, it's time to think about fall lawn care tasks. While it may seem odd that you're prepping your lawn only to be covered in snow in a few short months, the fall is the best time to ramp up for the spring. If you put in a little hard work now, you'll reap the rewards in April.
Task #1 – Keep Watering & Mowing
Keeping your grass watered and cut will keep it from going dormant during the summer. Remember, your grass needs about an inch of water to keep it healthy and green, and when you're mowing, don't cut off more than 1/3 of the grass. Your focus with mowing later into the season is to reach the lowest blade setting by your final cut of the season, so by gradually lowering the blade each time you cut, you'll still be able to retain 1/3 of the grass blade. Cutting the grass low allows more sunlight to reach the crown.
Task #2 – Aerate
Fall is a great time to aerate your lawn, allowing for moisture, oxygen and nutrients to penetrate into the soil, especially if you do this before you fertilize. Renting your own gas-powered push-aerator is a quick way to pull the plugs from your lawn, especially if your yard is small.
Task #3 – Fertilize
Though the growth of grass blades slow in the fall, everything still grows quickly below the surface and fertilizing with a dry fertilizer in mid-late fall helps to store the nutrients the grass and soil need for spring. Just make sure you are fertilizing your yard evenly. A drop spreader will help with this.
Task #4 – Seeding
Fall is the time to do some lawn repair with seeding or by using an all-in-one lawn repair mix. If you've had problems with diseases or insects and there are bald or dead spots, just loosen the soil a bit, add your seed or repair mix, compact it a bit, water it well and then continue to keep the area moist for the next couple of weeks. Watering every other day should be enough unless you get another burst of summer-like temperatures.
Task #5 – Raking the Leaves
Yuck. I know. However, if you don't rake the leaves off your lawn, they'll get wet and partially decompose but not before suffocating your lawn and potentially breed disease and bacteria.
Task #6 – Get Rid of Weeds
Weeds know when the winter is coming so they tend to absorb as many nutrients for their hibernation so they can grow big and strong in the spring. You need to stop that from happening by applying weed killer or herbicide in the early fall. Most herbicides require temperatures above 16 degrees Celsius for them to work so don't wait too long in the season before applying.
Doing these 6 lawn care tasks during the fall will help you to have a great looking lawn in the spring without too much effort.