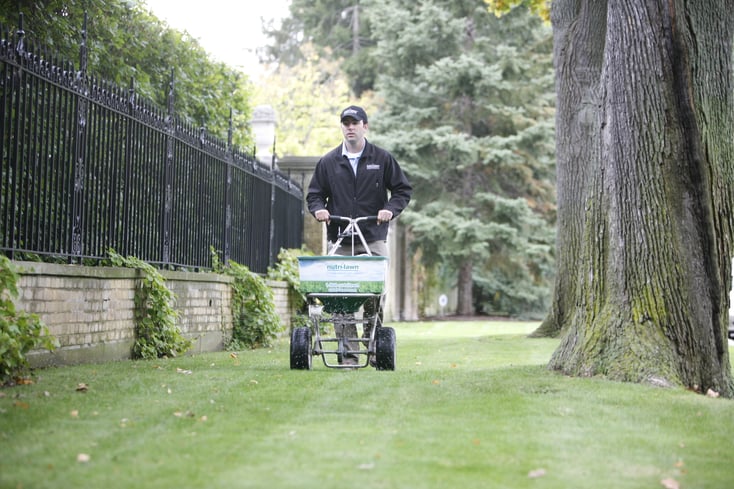 One of the single most important things you can do for your lawn is to provide it with the plant essential nutrients it requires to grow healthy. Balanced fertility ensures the lawn will stay green, thick, healthy, and robust.

Fertilizing provides some of the best visual impacts with relatively minimal effort and expense. Fertilizing in the fall is very important in the overall process of the lawns fertility requirement and provides many benefits. Using a fertilizer blend that contains the 3 major nutrients: Nitrogen, Phosphorus, and Potassium (NPK) is recommended. These 3 nutrients are required in the greatest quantity by the plant and will have the biggest impact on how the lawn performs.
NPK
The 3 major components to a fertilizer blend are Nitrogen (N), Phosphorus (P), and Potassium (K). The NPK ratio is also referred to as the analysis. These numbers represent how much of each nutrient is in the blend. For example a fertilizer blend with an analysis of 25-5-10 represents 25% Nitrogen, 5% Phosphorus, and 10% Potassium. Nitrogen is required in the greatest quantity and promotes the dark green colour, leaf and blade growth, and density to the lawn. Phosphorus is important for root growth and plant establishment. Potassium contributes to the overall general vigor of the plant and strengthens its resistance to wear, drought, disease, and hardiness against winter.



Application Timing
Early Fall Application timing should be made between mid August – mid September for most areas. This timing is important in order to help the lawn recover from any damage that has occurred during the summer or other parts of the growing season.

Late Fall Application timing should be made between mid October – mid November for most areas. More specifically, this timing should be when the lawn has stopped growing, but it is still green , and the ground is not frozen. This timing is a great way to ensure winter survival and early spring green up. The nutrients will be used to encourage deep root growth instead of shoot growth as the roots remain active in cooler temperatures. Fertilizing after the ground is frozen is too late and will be of no benefit to the lawn.



Fertilizer Benefits
Both early fall and late fall fertilizer applications provide direct benefits for the lawn including the following:
Promotes deep rooting in late fall and early spring
Prolongs dark green turf colour into early winter
Ensures good winter survival
Enhances the storage of carbohydrates
Increases shoot density
Provides early spring green up
Application Rate
Fertilizer must be applied equally and evenly across the lawn. It also must be applied at the correct rate based on the time of year and the plants requirement. In general, no more than 1 lb of Nitrogen per 1000 sq ft should be applied at one time. It is important to accurately measure the total treatment area and only apply the required amount of fertilizer. More is not better. Over fertilizing can create a number of problems including stripping, burning, and excessive growth resulting in a weaker plant that is susceptible to insects, disease, and winter kill.



Fertilizer Options
Fertilizer comes in 2 forms depending on the desired outcome. Quick release fertilizers are designed to provide quick plant response. These products typically last for a short time and require multiple timely applications throughout the season. Slow release fertilizers are designed to release slowly and provide even feeding for long periods of time. These products are generally used over summer months and during the fall when immediate response is not required. Fewer applications are made further apart throughout the season. Some slow release technologies only require one application for the entire season.