Dandelions are one of the most notorious broadleaf weeds that commonly infest home lawns. Dandelions are a perennial weed that is easily distinguished by its bright yellow flower.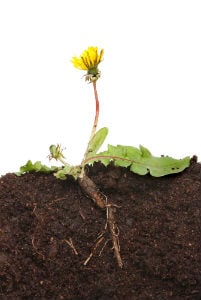 Dandelions are often most noticeable during the spring when they are actively growing with yellow flowers which make them a sight for sore eyes in a healthy green lawn. The Dandelion root is very thick and deep which makes it difficult to remove. This central taproot is similar to that of a carrot.
A Dandelion root can be quite extensive and can grow to a depth of 12 inches. It is important to remove the entire dandelion root if manual removal by hand is the method of control. If the dandelion root is broken and not completely removed there is a good chance it will grow back quickly.
Traditional and natural dandelion killer products are also effective control options as they translocate through the weed and kill the dandelion root reducing the possibility of regrowth.
If your interested in our Fiesta Weed Control services please click HERE or click on the link below to request a FREE quote.