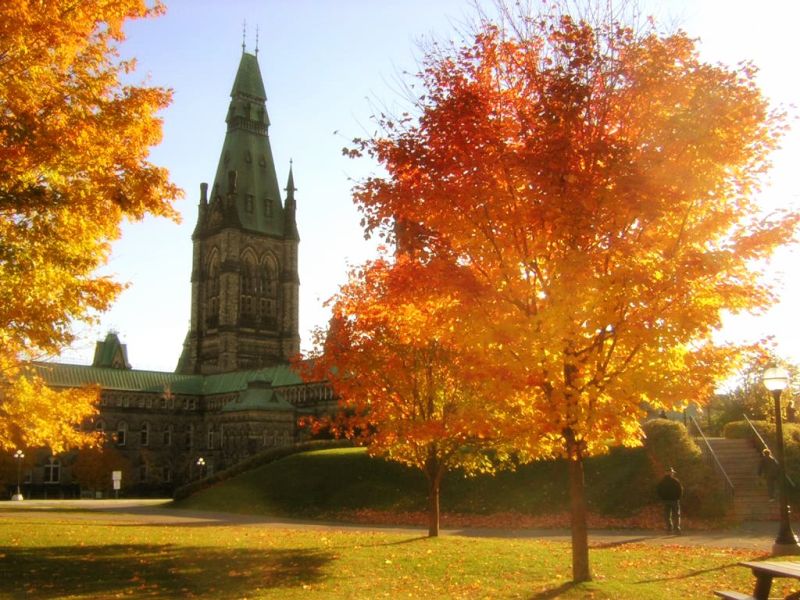 The fall lawn care season in Ottawa is breathtaking. The leaves begin to turn beautiful shades of orange, the the ivy covering our gorgeous stone buildings turns to fiery shades of red, and the weather gets more crisp every day. And while the heat of the summer may be over, your lawn still needs your attention! The more predictably cooler temperatures and occasional bout of rain make fall a great time to prepare your lawn for next year. Ottawa lawn care companies are still hard at work!
Aerate Your Lawn
Chances are you have been using your lawn all summer long! Barbeques, camp outs, just walking across it on your way to the mailbox. Any action on your lawn gradually compresses the soil, making it harder and harder for the grasses' roots to reach air and water. Aerating your soil will reverse the negative effects of compressed soil. You can either rent a gas powered, walk behind aerator or enlist a professional lawn care service to get the job done. Aerating works by removing tiny plugs of soil and grass from your entire lawn. These three inch long plugs allow air and water to reach root networks. Without access to air and water the roots will not be as deeply established as they need to be for a luscious, healthy lawn.
Mow Away
Don't put away the lawnmower quite yet! Even though the summer is almost over you still need to mow your lawn. When you think that the season might be drawing to a close however, reduce the mower's blades to the lowest setting, and use this adjustment for the last two cuttings of the year. This lets more sunlight reach the crown of the grass, reducing browning over the winter. Despite using the lowest setting, make sure to still follow the rule of thirds, and never cut off more than one third of a blade of grass during one cutting! To get to the lowest setting, perhaps start gradually lowering the adjustments instead.
Happy Raking!
While maybe not your idea of a fun weekend activity, you should make a point to rake up the leaves that fall on your lawn as promptly as possible. If possible, rake up leaves as soon as they fall. Rain and morning dew can make leaves stick together leading to a bed of thick, dense leaves. Not only will your lawn not be able to breathe and receive sunlight, but it can also be a breeding ground for fungal diseases!
Fall Fertilizing
The fall is also a great time to give your lawn a boost of fertilizer. The lower temperatures and more predictable natural precipitation make for excellent fertilizing conditions. It's important to remember during the fall, that while the leaves of your grass are growing slowly, the roots are plowing forward - or rather downwards. For the best results, wait until mid to late fall to apply a dry fertilizer. You can also take advantage of this chance to fill in any bald spots that have made their way onto your lawn.
To learn more about how Nutri-Lawn Ottawa can help you prepare your lawn for the fall contact us today!