Brrr... it sure is getting cold out there! In many parts of Canada, temperatures are dropping and frost is beginning to form on car windshields. With just under 2 months to go until the official start of winter, now is the time to start planning a strategy on how to put your lawn to bed before the cold embrace of winter.
One of the most important things on that list should be a winterizer. A 'winterizer' is an application of fertilizer applied in late fall. This helps prepare the lawn to get through a long, cold winter and can help minimize damage.
Sound like a plan? If so, learn more about winterizing fertilizer below.
The Benefits of Late Fall Fertilizing
Your grass needs nutrients at all times of the year, even winter. Giving your lawn the nutrients it needs to thrive at the right times is the key to success, and ensuring your grass has the adequate resources it needs to get through winter is the primary goal of winterizer fertilizers.
The benefits of applying a winterizer in late fall include;
Minimizes disease susceptibility
Reduces the risk of winter kill
Promotes deep rooting in late fall and early spring
Prolongs dark green turf colour into early winter
Ensures good winter survival
Enhances the storage of carbohydrates
Increases shoot density
Provides early spring green up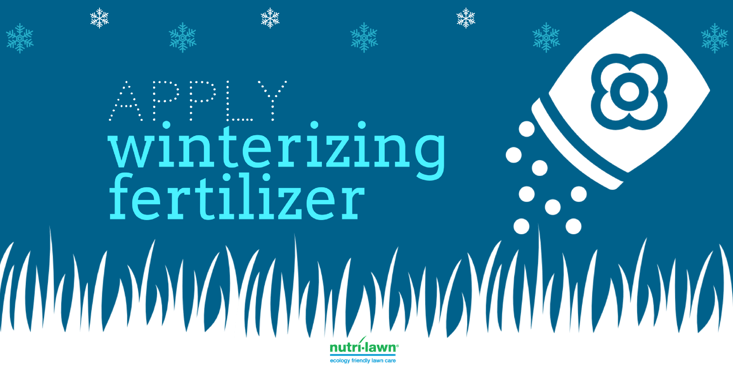 When to Apply a Winterizer
>> READ: Fall Is A Great Time For Lime
The optimal timing for fall fertilizer would be when the shoot growth of the turf stops and before the ground freezes. Depending on where you are in Canada, this timing would most likely be anywhere from early October to late November, so seek the advice of a professional to make sure you get the timing right.
Another good rule of thumb is to apply your winterizer after you've finished your last cut for the season, which can be shorter than your regular cutting height. Cut the lawn at 1.5 inches, and raise it back up to 2.5 inches in the spring.
Follow us on Facebook for more lawn care tips & tricks.