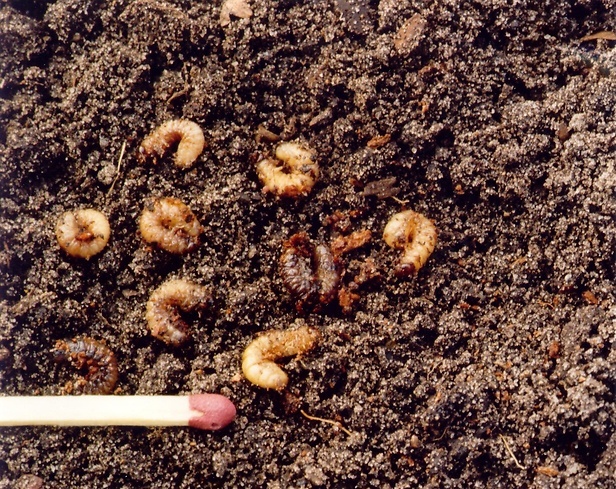 Let Nutri-Lawn apply nematodes to your lawn and you can kiss grubs goodbye! Grubs can cause expensive damage toyour lawn. Eggs laid in the summer by beetles hatch in late summer, turn into grubs and can destroy your turf thereby reducing your home's value. Protect your lush lawn with environmentally friendly nematodes. These microscopic roundworms seek out grubs as their hosts and then destroy them. With over 15 years of experience in the use of nematodes, Nutri-Lawn's experts know exactly the ideal conditions to release these efficient grub killers.
To maximize the effectiveness for your garden grass Nutri-Lawn:
Uses wetting agents to improve water penetration
Tests all batches of nematodes under a microscope to make sure they are alive and vigorous
Applies nematodes in quantities over 71 million per 1000 sq ft
Stores the nematodes at temperature at 5ºC or less but never frozen
Nutri-Lawn's precise handling of these grub destroying nematodes ensures a high percentage of grub control for your lawn. They know exactly when to apply the nematodes (August to early Fall is best), what time of day to do it (early morning, late afternoon or evening) and what kind of conditions the nematodes will thrive in (cooler soil is better and make sure you water your nematodes). Nutri-Lawn delivers your nematodes directly from refrigerated storage and verifies they are thriving under a microscope. Store bought nematodes often either diminish or die due to improper storage and handling.
The experts at Nutri-Lawn know there is no second chance with these environmentally friendly grub destroyers, so let the experts at Nutri-Lawn do it right. Talk to Thom Bourne and his Nutri-Lawn team at 613-739-3399 or email grubs@nutrilawn.ca. Nutri-Lawn is located at 1038 Belfast Road. Get your lawn gorgeous and grub-free!