Poor lawn maintenance practices and techniques can affect the condition
of a lawn and cause unwanted problems. Here's a list of things
to avoid or eliminate from your lawn maintenance routine.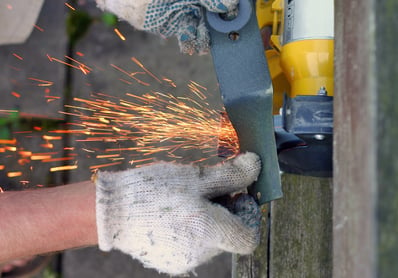 Dull Blades

Dull mower blades rip and tear the blades of grass making the
plant weak and susceptible to disease and other stresses.
The aesthetic appearance is also affected leaving the turf
appear brown and unhealthy.

Scalping

Scalping generally occurs when the mower height adjustment
on the mower is set below the desired height of cut for the
turfgrass. The grass blades are mowed off very short at the base
exposing the stems and crowns of the plant. Accidental scalping
can also occur when the lawn is very uneven or bumpy with low
and high spots.

Excessive Clippings

Excessive clippings resulting in clumps of grass is a common
problem when the lawn is mowed when its wet or if the
frequency is left to long in between mowings. This generally
occurs when there are too many clippings for the blades to
mulch evenly and clumps cover the lawn is a result. These
clumps must be raked out or collected in a bagger to eliminate
damage to the grass it is covering.

Tire Rutting

Tire rutting is a result of cutting in the same direction and
pattern each time you mow. These ruts can become deep and
noticeable if the mowing pattern is not changed each mowing.

Trees

use special care and avoid running into the base of trees when
mowing or trimming around them. This can cause major damage
to the health of the tree.

Unwanted Mess

Always mow along the bordering edges in a clockwise direction.
This will ensure clippings are not dispersed directly into flower
beds, landscape areas, or all over driveways and sidewalks.
Click HERE to download our free Lawn Mowing Ebook (or click the link below).