How Overseeding Will Transform Your Lawn
Does your lawn look a little worse for wear now that the snow has melted and the grass has been uncovered? Winter can cause dead patches from the cold. It's not hard to fix patchy parts in your yard with the right Ottawa lawn care services from Nutri-Lawn. Overseeding is the number 1 way of revitalizing your yard.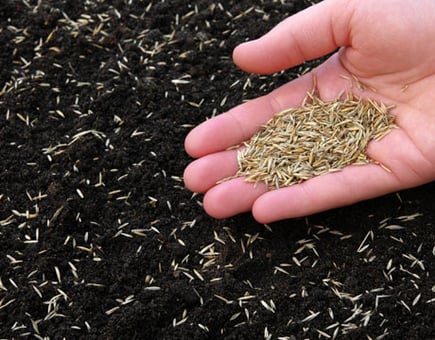 Nutri-Lawn Ottawa can help you understand the benefits of overseeding your lawn and can include it in your Nutri-Lawn lawn care program. Read on to find out more about this Ottawa lawn maintenance practice.
What is overseeding?
Overseeding is a fairly simple lawn maintenance process. All it takes to revitalize your lawn is to remove any thatch and dead grass and sow new seeds. This allows you to renew your lawn and remove the weakest links!
How do you overseed?
The first thing you need to do to overseed is dig up thatch and dead grass with a rake. Make sure the lawn is properly thawed before you begin the process of overseeding. If your lawn is still frozen, it won't take the new seed.
Next, mix up the soil with compost, manure, or fertilizer. Before you add the fertilizer of your choice, rake up the soil completely to remove compaction so that the seeds can root down.
Pick your seed. This is a great chance to pick a more resilient seed than the kind you've used in your Ottawa landscaping in the past. Find a seed species that can better withstand insects or diseases that your lawn has struggled with in the past. Native seeds are smart choices, as they are use to your lawn's climate and therefore won't have as hard a time coping with adverse weather. Native species also require far less work and irrigation. You can spend less time on your Ottawa lawn maintenance and more on hobbies of your choice. Finally, plant your seed and irrigate.
The process can be somewhat challenging, particularly in picking the right seed. In order to make sure you get a seed that's perfect for your lawn, it's best to bring in the experts! Nutri-Lawn Ottawa can help you choose the right seed, and execute the practice of overseeding correctly.
Why include overseeding in your Ottawa landscape services?
Overseeding offers a myriad of benefits to your Nutri-Lawn lawn care program. Remember a lawn is only as strong as its weakest patches, so keeping the dead and dying patches in your lawn will do nothing but make your lawn more vulnerable. Dead patches decrease your lawn's defenses against insects, diseases, and weeds. As mentioned above, overseeding will help you create a thicker and more resilient lawn by introducing a stronger base.
Since your lawn is strengthened, it will require less work regarding lawn maintenance. These lawns need less fertilizer, more irregular maintenance, and less frequent irrigation.
On an aesthetic level, overseeding lets you renew the curb appeal of your lawn and create a more beautiful backdrop for your home.
What time of year do you overseed?
Nutri-Lawn Ottawa recommends overseeding your lawn in early fall, but if not, spring is a great time too. You want to make sure that your grass is planted and thriving before extreme weather conditions hit. Fresh seed can't survive snow or drastic heat.
Based on changing weather, it's hard to say exactly when to overseed. Nutri-Lawn Ottawa can help you figure out when the best time is to plant seed for optimal results.
Early planning is always best for your Ottawa landscape services. Receive your complimentary quote on Nutri-Lawn landscape services today.