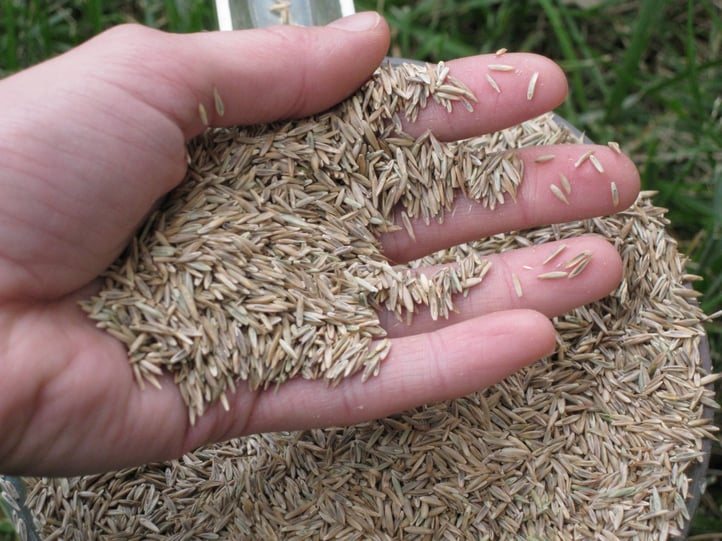 Overseeding is one of those mundane spring lawn care tasks that you really shouldn't over look. At Nutri-Lawn Vancouver, we love being able to return to our client's properties year after year. Seeing lawns that not only improve that first season, but to see the growth and maturity in the plants and knowing how disease resistant a thick healthy lawn can be is very satisfying for us and it also keeps our customers happy too!

Overseeding a lawn should be done in spring ideally, though it can be done in the fall as well. Overseeding scatters grass seed over an existing lawn to fill in gaps and provide new growth each season. Even grass plants get old and grow thin, so introducing new seeds each year ensures your lawn will never look tired or worn out.
Why Overseed?
Overseeding provides many more benefits that just the ones mentioned above. Overseeding allows you to diversify the grass varieties in your lawn, and you might choose to do this for a number of different reasons. Perhaps your lawn gets more shade now than it did five years ago, so you need a more shade tolerant variety. A variety of grass species can help your lawn stay green all summer long, resist disease, insects, and other typical lawn problems. When you have only one variety of grass in your lawn, a specific problem can affect the entire lawn.

Overseeding also gets new grass growing in bare or sparse areas where weeds can take root. The best defense against weeds is a thick, lush healthy lawn because it creates an almost impenetrable barrier to other plants like pesky weeds.

You can rest assured that Nutri-Lawn Vancouver offers treatments and strategies designed specifically for the local Vancouver climate so that your spring lawn care maintenance routine will see optimal results that last all season long.
Provide Optimal Conditions
Grass seeds are fairly easy to get started, but to see the best results - there are a couple of essential conditions necessary. The warm soil and additional rainfall spring brings are essential. In other seasons, you may have to artificially create the moisture to ensure your grass takes root and the plants thrive. You don't want to let grass seed dry out once it's been scattered. Frequent watering is essential.

New seedlings are tender and easily damaged. Avoid mowing new grass for 4- 6 weeks after it sprouts and be sure not to mow too low. Remember, the grass needs those green leaves to send out strong roots, so give those seedlings ample time to get a good start. And remember, make sure to keep all foot and pet traffic off the new seedlings until they've had a good chance to get established.

Nutri-Lawn Vancouver serves the entire Lower Mainland, so be sure to give our professional lawn care experts a call to give your grass the best start possible this spring for results that will last all season long! All our work is backed by our Nutri-Lawn customer guarantee, so take that first step to a great lawn by asking for a quote today.