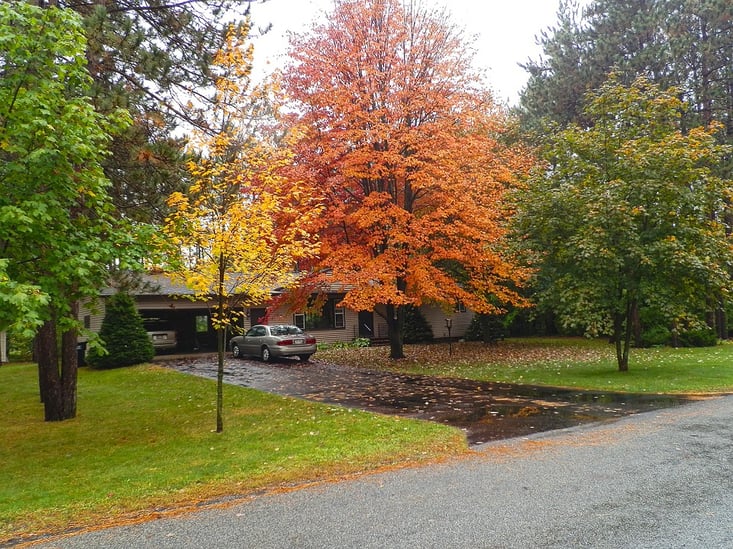 As an Ottawa homeowner, you likely go to great lengths to keep your lawn looking great during the spring and summer months. But what about when autumn rolls around? Just because the leaves are falling doesn't give you permission to fall behind on your Ottawa lawn care duties.

How you care for your lawn in the fall has a significant impact on how your turf will perform the following year. So don't start slacking off just yet. Here are five fall lawn care tips from the experts at Nutri-Lawn Ottawa to help you lay the ground work for a lush, green lawn next spring:
1) Fall Fertilizing
Winter can be a very stressful time for your Ottawa lawn. Help it handle frigid temperatures and damaging frosts by feeding it a healthy helping of nutrients this fall. When applied now, a slow-release mixture will help strengthen your lawn's root system, making it more resistant to the rigours of winter weather.
When shopping for a fall fertilizer treatment, look for one that's high in nitrogen (this is noted in the first number of the 3 digit formula on the fertilizers packaging; the second number stands for phosphorus, the third for potassium). A fertilizer with a formula of 20-8-8 will get a heat-damaged lawn growing again in early September.
2) Where's the Water?
Constant irrigation is an integral part of your fall lawn care approach. Our Ottawa lawn care experts recommend giving your lawn at least one inch of water per week during the cooler fall months. This includes lawns that have gone dormant. Inactive lawns can be injured if they get too dry, so don't forget to schedule your inground irrigation system for a regular sprinkle every now and then. Infrequent and deep watering treatments will produce the best results if applied during the early morning hours.
3) Sow Seeds of Potential
Now that the hot temperatures are past, it's time to think about repairing your property with an overseeding treatment. The cooler weather will provide your new seed with the ideal conditions to germinate and establish strong roots. What's more, your lawn will have three growing seasons to become established before the heat of summer rolls around again.
Another bonus: the weeds that normally compete with your grass will all but have died out by now, giving your grass uninhibited access to the nutrients in your soil.
4) Begin with a Clean Slate
Fall is the season of debris – yard debris, fallen leaves, misplaced kids' toys – you name it, it's probably found its way onto your property. Unfortunately, the more stuff that's on your lawn, blocking the sun, the more difficult it will be for your turf to soak up the nutrients it needs to prepare for itself for winter. Schedule a dethatching and power raking treatment with our Ottawa lawn care experts today to ensure that your lawn is clear of any excess junk.
5) Let a Little Air In
Give your lawn a bit of a breather before winter with a core aeration treatment from the Ottawa lawn care experts at Nutri-Lawn. Aeration reduces soil compaction by punching holes in the turf and removing soil cores. This enables your lawn's root system to receive more nutrients, oxygen, and moisture, which in turn, will help it to become thicker, greener, and more resistant to weeds.
Fall in love with your lawn this autumn. Contact the Ottawa lawn care experts at Nutri-Lawn today to schedule your autumn lawn maintenance treatments.