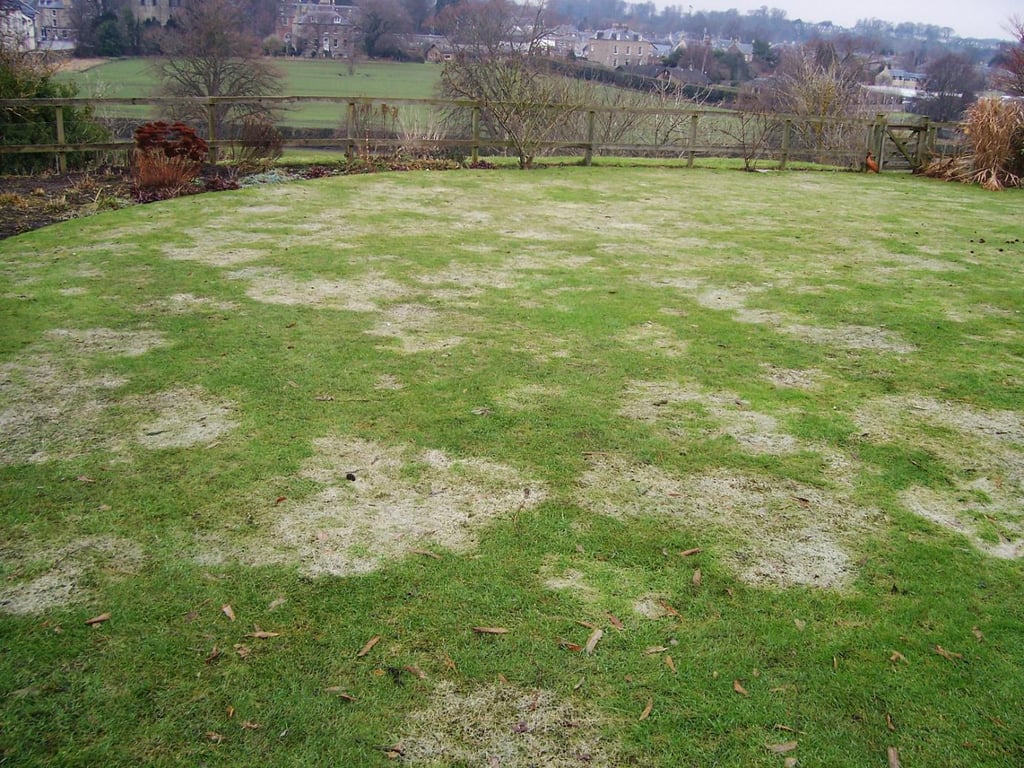 There are several lawn diseases common in Ontario. Some lawn diseases may simply be an inconvenience and are easy to treat, while others can affect large portions of your lawn and cause visible damage. Different lawn diseases flourish at different times of the growing season, but the consistent wet cool conditions in spring are the optimal conditions for molds, fungus, and a few other problems. Prevention should start before you see any signs of disease in your lawn.The best way to prevent lawn diseases from afflicting your lawn is to have proper maintenance. If the following lawn care tips are not followed, your lawn may be susceptible to a variety of lawn diseases.

1. When mowing, leave the grass longer and mow more frequently (leave 1/3 of the grass blade intact).
2. Don't water at night and make sure to not overwater.
3. Aerate and dethatch your lawn for proper growth and air circulation.
4. Ensure the proper fertilizer is applied at appropriate times

Here are some of the common lawn diseases found in Ontario.
Leaf Spot
Leaf Spot is common in Ontario because of our humid conditions in spring and summer. Leaf Spot starts out as small purple spots on grass blades and spreads to the entire stalk until the whole leaf resembles straw. Lawns that are fertilized but not well-watered afterward, or are mowed too short, are prone to Leaf Spot.
Pink Snow Mould
Fusarium Patch, more commonly called Pink Snow Mould, is a fungus that attacks your lawn in prolonged cool wet (spring and fall) weather. Small brown spots will appear and as the spots grow they take on a pinkish hue. If the grass was left long when the first snow fell, or if snow was piled on the lawn during winter, or leaves from the previous fall weren't collected before the snow fell, all these will leave your lawn susceptible to snow mould.

Wait until your lawn has dried out before attempting any sort of rescue. A good raking will displace the mould. Aeration and dethatching will definitely help. Overseed as necessary.
Ring Patch
Once ring patch sets in, it is difficult to eradicate. Ring patch-infected portions of lawns take on a distinct light green circular or crescent shaped pattern. As the diseased patches grow, the infected grass changes from a light green to brown. The ring pattern can have dead grass inside or outside the circles. Good lawn care is the best prevention for this problem included with aerating and dethatching.
Rust
A minor problem in Ontario is rust. Often, homeowners discover a rust problem when a rust colour is left on their white shoes when they walk across the lawn. This lawn disease is carried by the wind from one lawn to another, and if enough moisture is present the infection begins almost immediately. Proper mowing and fertilizing should clear up the problem, but too much or too little nitrogen will actually boost the rust problem.

Not sure you lawn is under attack from disease? Is your property affected by one of the diseases mentioned above? Contact the lawn care experts at Nutri-Lawn Ottawa to inspect, diagnose and treat the problem before it spreads to your entire lawn. You'll be glad you did!