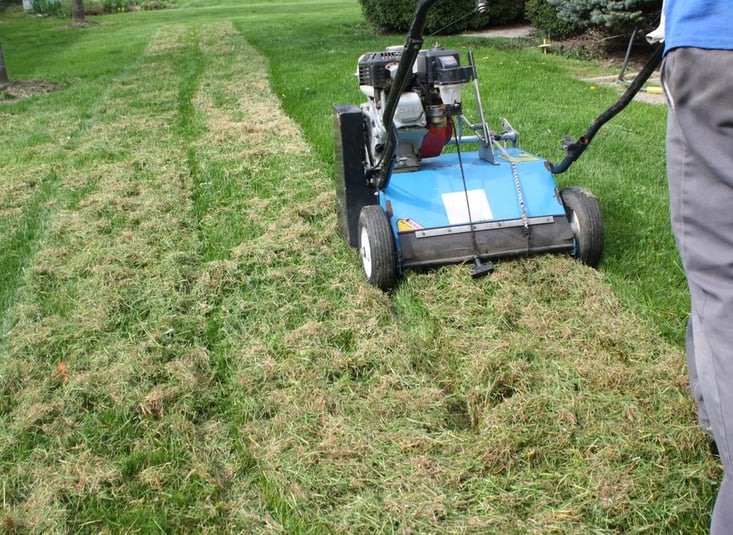 Preparing your yard for fall and winter can be one of the most important Ottawa lawn care routines you do. There's no better way to have a healthy, luscious yard in spring than to begin with a lively foundation in autumn. The cold season is coming on quickly, so it's best to be as prepared as possible with your Nutri-Lawn Ottawa lawn care. If you haven't already, it's time to dethatch.
Dethatching this time of year may be pushing the bounds a little bit, as you'll want to fertilize following a dethatching program. However, it is something that you'll want to accomplish before winter. Dethatching comes in a couple different forms, so you'll need to learn the ins and outs before making your decision. Nutri-Lawn Ottawa can help you figure out what form of dethatching is best for you, and then assist you in choosing a fertilizer to follow. Below, we've outlined the basics of dethatching to help you with initial planning.
Why is it important to dethatch?
Thatch is the build up of organic material on the surface of your yard. This layer expands over summer as fallen leaves, old grass, grass clippings, and dead insects fail to decompose. While this may sound fairly harmless, thatch truly can bring chaos to your grass.
Thatch suffocates your lawn so that no nutrients, water, or oxygen can get to the soil below. It also makes for a perfect breeding spot for insects, diseases, and fungi over the winter months. Chinch bugs, in particular, love resting in the thatch layer to stay warm throughout the winter. Dethatch to prevent a serious Ottawa lawn care debacle in the spring.
Finding your fit
Before you dethatch your lawn, you need to decide on which method is the best fit for your thatch problem. For lawns that are dealing with a heavy thatch layer – 3 inches or more – a full dethatching process will be necessary. Nutri-Lawn Ottawa completes dethatching over a couple of days to prevent major stress on your lawn.
For smaller problems, try power raking. Power raking will get the job done with slightly less stress on your grass. The tiniest thatch issues will only require core aeration. Core aeration is a Nutri-Lawn Ottawa lawn care service that should be completed in the fall regardless, to reduce compaction before winter and ensure your lawn is well fed for hibernation.
The Nutri-Lawn Ottawa dethatching process
Plan your dethatching when there is still 30 days left of the growing season. This ensures your lawn has enough time to recover before winter hits.
An important thing to remember is that dethatching involves scoring your yard with razor sharp blades. You'll need to make sure you have marked off all sprinkler heads and other obstacles before Nutri-Lawn Ottawa begins the process.
Once dethatching is completed, feed your lawn with fertilizer or an application of topsoil. Both should be followed by a healthy drink from your inground sprinkler system.
Don't wait to get started on your fall Ottawa lawn care this September. Receive your complimentary quote from Nutri-Lawn Ottawa today