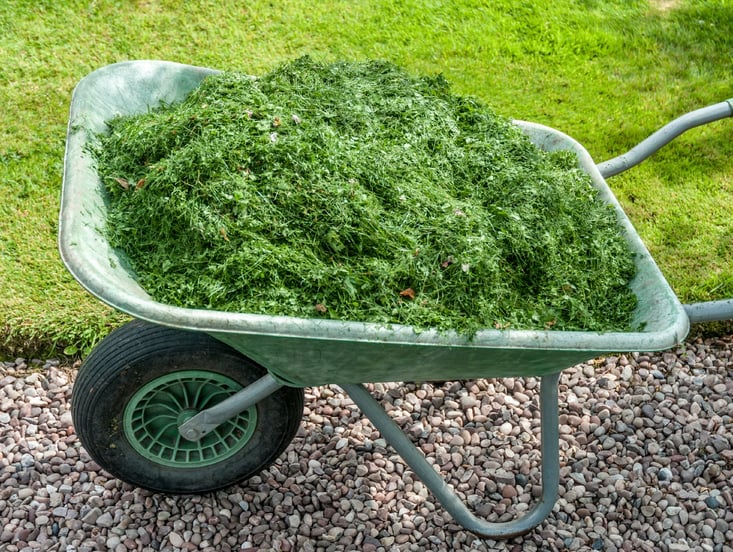 Spring is the best time of year to add fresh mulch. The quality of the mulch being used is important because often you get what you pay for. Mulch is available in a variety of materials (organic and inorganic), and a variety of sizes from sawdust to small, medium, and large pieces, and even colours. There are 5 main benefits to adding mulch outlined below, but there also additional side benefits including preventing soil compaction and promoting root growth.
Budget is obviously a major factor in choosing mulch, but consider what you want it to do as well. Is this simply an esthetic application or is rejuvenating soil and saving water a priority? Lava rocks look pretty and last a long time, but they don't break down so add little to the soil and in the high heat of summer can heat up and cause evaporation. Sawdust is great if mixed in with other types of mulch, but on its own is too fine and will clump and steal moisture from the soil. Some mulches are alkaline while others are more acidic, and that soil condition may help or hinder the kind of plants you're hoping to grow. It will pay in the long run to do some research.

Before mulch is applied, remove any weeds and be sure not to apply the mulch too thickly. How thick he mulch layer should be will depend on the size of the pieces.

5 Big Benefits of Mulch

Conserves Water
Mulch helps maintain a consistent level of moisture in the soil, as much as possible. Mulch acts as a barrier between the weather and the soil where a lot of moisture is lost causing plant distress. This allows the soil to insulate against drought or extreme heat. Mulch also helps prevent run off causing erosion or other water run-off problems.

Weed Suppression
A primary reason for applying mulch is to prevent or reduce the amount of weeds that germinate and sprout. Mulch is an organic and natural method that, while not 100% effective prevents many weeds from growing in undesirable locations or allowing invasive species from spreading quickly.

Consistent Soil Temperatures
Regulating soil temperatures provides plants with insulation against weather fluctuations and extends the growing season in the spring and fall. Strong plants better resist disease, rot, pests, drought, and other problems.

Adds Natural Nutrients
Using fertilizer can stimulate artificial growth and creates a cycle of dependency. Allowing mulch to decompose, at least part of it, naturally adds material back into the soil that regulates PH levels and other crucial environments for plant growth. Choosing an organic mulch won't limit the choices though as there are a wide variety from chipped wood to bark to crushed leaves and shells. Mulch is also available in a variety of sizes and, generally speaking, the smaller the pieces the faster it will break down.

Curb Appeal
Mulch will never be the focal point of your landscape, but it can serve as a great background. Whether you're looking for a consistent colour or texture, or contrasting, there's a mulch to suit your needs from gravel, bark, coloured wood chips, straw to lava rocks and more. If the above benefits are also desired choosing an organic mulch is recommended. Larger sized mulches will look best paired with larger plants like bushes and trees. Smaller bedding plants will remain the focus with a smaller sized mulch.

Are you ready to get started on your Nutri-Lawn Vancouver lawn care services? Contact Nutri-Lawn Vancouver today for your complimentary quote.