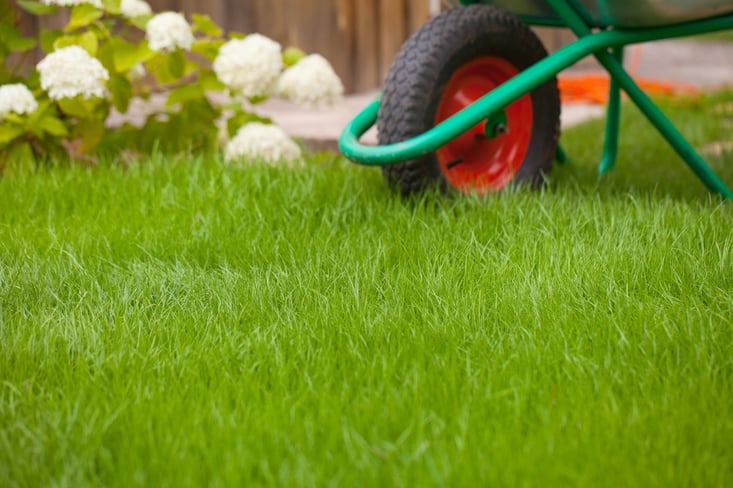 How often do you feed your lawn? It may seem like a funny question, but in order to keep your Ottawa lawn healthy and vibrant, you need to feed it nutrients regularly. Elements like phosphorus, potassium, and nitrogen need to be added to your lawn in order to keep it lush and green. Fertilizers are the most common way to feed your lawn, but just what type of nutrient combination does your unique lawn need? If you're struggling to find a fertilizer that's right for your Ottawa property, don't worry – the home sprinkler system installers at Nutri-Lawn can design a fertilizer treatment to satisfy the cravings of any Ottawa area lawn.
Understanding the Needs of Your Lawn
Ottawa residents will have either warm-season or cool-season grass planted on their property. Each of these grasses has its own growing season, and therefore each requires a different fertilization schedule.
Caring for Warm-Season Grasses
Warm seasons grasses flourish during the warmer summer months, and thus require fertilizing shortly after the initial green-up in the spring. The commercial sprinkler system specialists at Nutri-Lawn also recommend applying a second fertilizer treatment again in the late summer months to help prolong the health of your property. Warm-season grass is used to harsh summer sun, and will require minimal watering treatments from your home or commercial sprinkler system. Warm-season grasses aren't overly common in the Ottawa area, but that doesn't mean Nutri-Lawn can't help you care for this type of grass. Nutri-Lawn offers a number of nitrogen-rich fertilizers in order to enhance the health and vitality of warm-season grasses.
How to Keep Cool-Season Grasses Flourishing
Most of the grasses in Ottawa are considered cool-season grasses. These varieties have two growing periods, the first is after the lawn's return from winter dormancy, the second is during the early fall. In order to keep a cool-season lawn looking it's best, the sprinkler system installers at Nutri-Lawn recommend fertilizing four to five times throughout the spring and summer months. Our lawn care experts recommend avoiding the use of too much nitrogen during the first few applications. This nutrient will be required in larger amounts later in the growing season.
Things to Remember About Fertilizers
1) Many fertilizers on the market are "combination" treatments.
Why target just one aspect of your lawn when you can address multiple issues at the same time? At Nutri-Lawn, we can design a fertilizer treatment that also controls moss, manages weeds, or targets common pests. Think your lawn could benefit from a combo-pack treatment? Then Contact a Nutri-Lawn sprinkler system and lawn care professional today to schedule a free lawn care consultation.
2. Avoid nitrogen when your lawn is dormant.
Nitrogen is a growing agent and works best when applied to grass that is already growing. Adding nitrogen to a dormant lawn will only encourage the growth of weeds and unwanted grasses.
3. Avoid fertilizing during periods of drought.
Ottawa lawns digest fertilizers best when the nutrients are applied to a well-irrigated yard. Remember to run your commercial or home sprinkler system a little bit longer after fertilizing – if you're lawn isn't properly saturated the nutrients could burn your grass.
A fantastic lawn begins with a well-formulated fertilization schedule. Contact Nutri-Lawn Ottawa today at (613) 739-3399 to create your custom lawn care program.