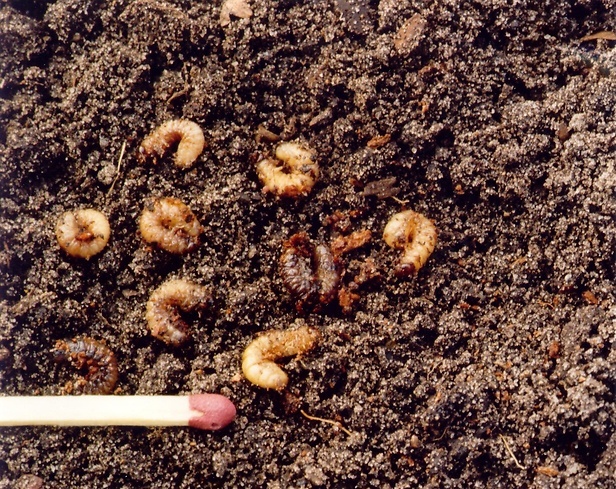 White grubs are round, white or yellowish in colour, and will eat your lawn to death. The larvae of the native June bug or June beetle are the most common culprits infesting your lawn. Japanese beetles and the European chafer have invaded eastern Ontario, but are not typically found in western Canada. Because of the warmer temperatures in Vancouver, it is necessary to treat your lawn earlier than in other parts of the country. Nutri-Lawn Vancouver's lawn care experts are able to quickly diagnose a larvae problem and prescribe effective treatment to save your lawn.
Identifying Grub Damage
White grubs feed off the fibrous roots of lawn grass. They live in the top few centimetres of soil and if exposed to the air, are vulnerable to natural predators like ants and small birds. If your lawn rolls up like a carpet, the roots are sheared off or missing, and white grubs are likely to blame. If your grass feels spongy when you walk on it or brown patches begin to appear late in the summer or early fall, suspect grubs are the cause. Skunks and other small mammals might also be digging up patches of your lawn hunting for grubs.
A Natural Solution For White Grubs
White grubs are very difficult to eradicate. The June bug matures in three year cycles, so you might not notice this damage every year. A natural remedy for white grubs are beneficial nematodes. Nematodes are microscopic worms that are applied to the lawn with water. They invade a grub through natural openings and inject a toxin that usually kills the grub within two days. The nematodes then lay eggs in the dead bug and rapidly multiply and seek out other victims. Beneficial nematodes may be applied every three to six weeks.
If you find grubs on the surface of your lawn, request a free quote today from the experts at Nutri-Lawn Vancouver to avert a lawn disaster this fall when nematodes are less effective.
How To Prevent A Grub Infestation
Grubs, like many other pests, have a preference for a certain set of circumstances. They prefer close-cropped grass. Keeping your grass shorn close to the ground may mean you mow a little less frequently, but it does leave your lawn vulnerable to many problems. Leaving your grass about 2 - 3 inches long from the crown of the plant will ensure the grass plant remains healthy and better able to withstand disease and pests.
Removing excess thatch (an organic layer of material on top of the soil) will expose the grubs to natural predators. Aerating the soil also may kill some grubs, while also alleviating soil compaction and helping solve a thatch problem. You might also choose companion plants that are toxic to grubs such as larkspur and geraniums.
The lawn care pros at Nutri-Lawn Vancouver serve the entire Lower Mainland, so be sure to give our helpful experts a call to give your lawn the best start possible this spring and summer for results that will last all season long!
Take that first step to a great lawn by asking for a quote. All our work is backed by our Nutri-Lawn customer guarantee. Give us a call today!