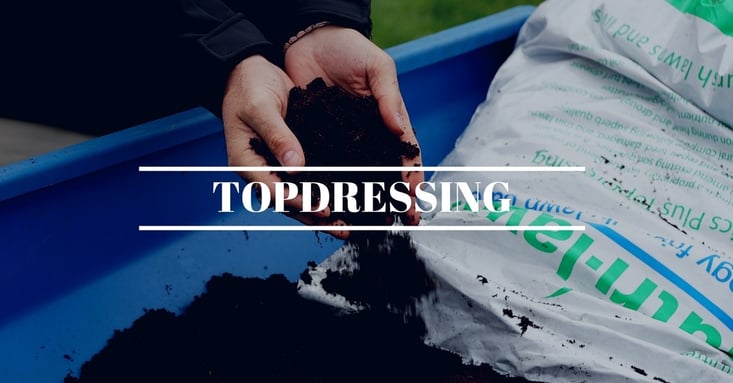 Summer is almost here and your lawn is … not quite ready? Don't worry. With the right Ottawa lawn care habits, you can get your lawn up and running before the warm temperatures really begin. With services like topdressing from Nutri-Lawn Ottawa, your lawn will love you!
If you've been put off from proper lawn care services because of the amount of time they consume, Nutri-Lawn Ottawa can help you enjoy your yard without the work. Topdressing in particular can be time consuming, difficult work but the benefits are numerous. Read on to find out how Nutri-Lawn Ottawa lawn maintenance services are a great addition to any Ottawa lawn care regime.
What is topdressing?
Topdressing is nutrient-rich, loamy or sandy loam soil that is applied to the surface of a lawn in thin, even layers. High-quality topdressing will often be sterilized from weeds to prevent introducing these pesky plants to your grass or gardens.
Some homeowners even choose to use a thin layer of finely ground compost for their topdressing, to get a full dose of fertilizer. What topdressing you choose will depend on your Ottawa lawn care habits and soil type.
What lawn care services involve topdressing?
Where you choose to use topdressing is up to you, but there are certain lawn care services where topdressing is highly encouraged. For instance, in the Nutri-Lawn Ottawa practice of overseeding, you'll want to get your lawn topdressed before applying the new seed. This ensures a healthy foundation in which the grass seed can germinate.
Topdressing can also be used to renew tired soil, and to lay down a foundation for the other plants you're introducing into your garden.
If you have a bumpy lawn, topdressing also works to even out the surface of soil by filling in the gaps. Spreading a layer of topdressing across your lawn will enhance the façade of your home and the quality of play space for your children.
How does Ottawa lawn care benefit from topdressing?
Before understanding the benefits, it's important to know that topdressing is one of the most arduous lawn care services. It is particularly time consuming and difficult to maintain a healthy, thin layer across the lawn. Fortunately, Nutri-Lawn Ottawa lawn maintenance includes a noteworthy program of topdressing that will get the job done right without you having to lift a finger. When topdressing is properly applied, it is a practice that will benefit your lawn immensely.
Topdressing improves the quality of your soil as well as the ability of your soil to drain. This is why it is worked into a lawn that is about to be freshly seeded or renovated.
Topdressing also prevents both thatch and the damage that comes with harsh winters. Thatch occurs when organic material struggles to decompose, and instead sits on the surface of your lawn in a partially deteriorated state. It suffocates your grass, and prevents water and nutrients from entering.
It's time to prepare your lawn for summer. If you're ready to begin your Nutri-Lawn Ottawa lawn maintenance services for spring and summer, call to receive your complimentary quote today!