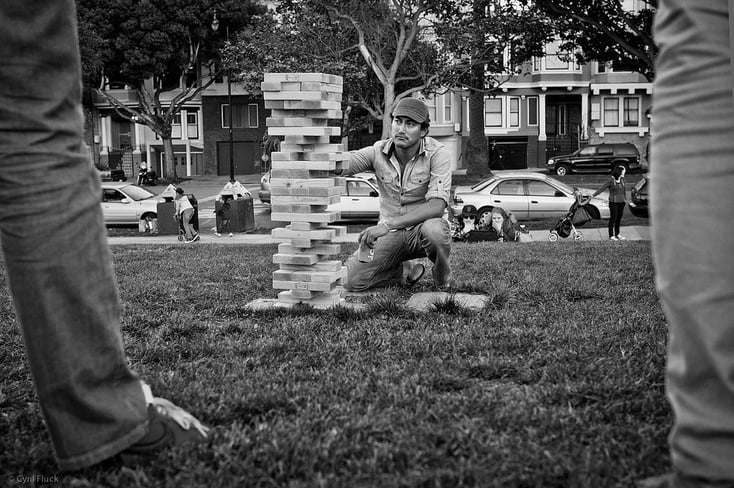 With a notoriously short Summer, Canadians relish any chance to enjoy the outdoors. The weather is fine and fresh right now, so why not seize the day and have a little fun on your lawn?
In case you've been living under a rock, Jenga is a classic building block game that was introduced to Canada in the 80's and has been sold over 50 million times since. That's a lot of blocks, right?
Most of us have played our fair share of intensly fun Jenga games... but have you ever played Giant Jenga? If you're down with Jenga and DIY, why not set yourself a little project... and have a whole lot of fun all Summer long!
How to make Giant Jenga
Buy enough 2x4 boards to cut into 48x 10

½ inch pieces (that works out to around 8 boards of 8ft length)

Cut the pieces (10

½ inches) yourself or ask a handy-man or lumberyard to do it for you (Tip: try to avoid lumber with excess knots)

Sand all the sides to make sure there is no rough or splintering edges. This will also help the boards slide smoothly while you're playing.
How to play Giant Jenga
Each player has one move per turn. Take one block from any level of the tower (except the one below the incomplete top level)
Place the block on the topmost level, in order to complete the level with blocks
Keep repeating this until the tower falls. The loser is the person that makes the tower fall. Everyone else wins!
Giant Jenga Tips
Players are allowed to tap a block to find a loose one
Any blocks moved by a player but not played need to be played (unless it makes the tower fall, of course!)
The more level and flat your surface is, the more likely the Jenga pieces will stay upright. If you're playing on your lawn, try laying down a larger bit of wood first.
Make the game your own by decorating blocks with paint, script or cute messages - just make sure the surface of the blocks stay smooth!
Follow us on Facebook for more fun ideas and lawn care tips.