Inside every company there is the heart and soul of the people who make its brand so valuable. At Nutrilawn we say "We Nourish Lawns and Lives." That is why we have created our most meaningful idea. We call it re:nourish.
re:nourish is our program to nurture the communities around us – both near and far – by giving back to them their greenery. Every part of our organization, the employees of our corporate office and our franchisees, are committing themselves through various projects to making the environment more lush and more nourished.
Our Beliefs
We believe that the idea and reality of community is the bedrock of a healthy society
We believe that everyone can contribute in some way to the health of a community somewhere
We believe that when we nourish a community we nurture its future
The way we organize our efforts we call From The Ground Up
We find projects with which we can engage
If we can bring our experience and expertise, as well as our passion, for healthy grass and exquisite irrigation to the project, we will
If we can mobilize our whole franchise system to contribute to a project that helps the community, such as a Food Bank, we will
We contribute individually and as a group
Congratulations to Kelly Scott and her team on winning the BC Scotties Provincial Tournament on January 21, 2013. Kelly and her teammates, Jeanna Schraeder, Sarah Wazeny and Sasha Carter will be competing in the Canadian National Scotties Tournament of Hearts in Kingston, Ontario in February 2013.
Kelly Scott, the Team Skip, is part of the Nutrilawn ownership group in Kelowna, B.C. and is an active member of the local community in Renourishing Lives through sports and various community programs.
Team Scott has represented British Colombia and Canada in National and World Championships. Team Scott demonstrates outstanding dedication and commitment to a winning record of accomplishment year after year, which serves as a role model to aspiring young athletes. Nutri-Lawn is proud to support this group of athletes in helping them achieve their sporting dreams and goals.

Team Scott has a history of winning at all levels and has set its sights to represent Canada at the Sochi 2014 Winter Olympic Games.
BC Scotties Tournament of Hearts Champions (2005, 2006, 2010, 2011, 2012, 2013)
World Women's Gold Medalist (2007)
World Women's Bronze Medalist (2006)
2 time Canadian Scotties Tournament of Hearts Champions (2006, 2007)
World Curling Tour "Team of the Year" (2006, 2007)
Canadian Olympic Trials Silver Medalist (2005)
BC Sports Hall of Fame Inductees (2008)
World Junior Women's Gold Medalist (1995)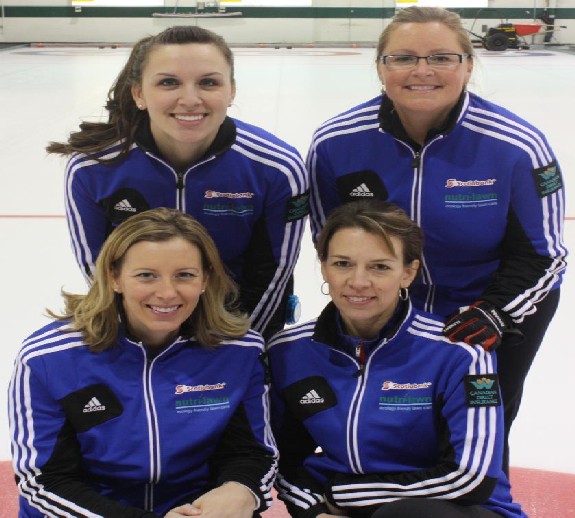 The entire Nutrilawn Family is cheering for Team Scott in their Championship quest. We invite you to follow Team Scott and enjoy the journey with Nutri-Lawn's curling connection. You can view the team's schedule and results with the following links: