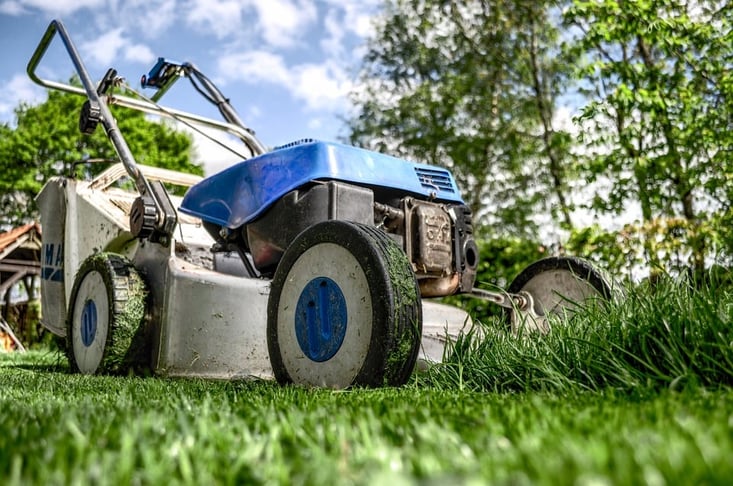 Bring life back to your lawn with the right mowing and irrigation techniques. It doesn't take much to whip your lawn into shape. These tools are simple to follow, and quick to work into your Ottawa lawn care routine. In fact, they may even save you time and money.
At Nutri-Lawn Ottawa, we see a lot of homeowners over-cutting and over-watering their lawns. Don't fall into the trap of being the "helicopter homeowner" for your grass. Here are a couple of tips from the pros to supplement your Nutri-Lawn Ottawa lawn care program.
Cool season grass height
The height at which you should keep your lawn depends on the type of grass it is. Most cool season grasses call for a mowing height of between 2.5 and 4 inches. Make sure, however, that you're not trimming more than 1/3 of the grass blade when you mow. Below is a list of heights for 4 cool season grasses as recommended by Nutri-Lawn Ottawa:
Tall fescue, 1.5-4 inches
Fine fescue, 0.5-3 inches
Perennial ryegrass, 0.75-2.5 inches
Kentucky bluegrass, 0.75-3.5 inches
Warm season grass height
Just as with cool season grasses, you only want to take off about 1/3 of the blade at a time. Warm season grasses usually like a height of 1 to 3 inches. Below is a list of mowing heights for 5 warm season grasses as recommended by Nutri-Lawn Ottawa:
Kikuyu grass, 1-1.5 inches
Zoysia, 0.5-2 inches
St. Augustine grass, 1-3 inches
Buffalo grass, 1.5-4 inches
Bermuda grass, 0.5-2.5 inches
When to mow
You'll need to mow your lawn most frequently during your grass's growing season. For cool season grasses, this growing season takes place in spring and fall, while warm season grasses grow most during the summer months.
During the growing season, mow your lawn to the appropriate height every 5 to 7 days. When your lawn's growth slows in the off-season, you can get away with mowing your lawn less than once per week. Some homeowners stop mowing entirely during these off-peak periods. You'll be able to lighten the load of your Ottawa lawn care and save money on mower fuel.
How much to water
Just like your lawn requires a proper mowing height, it also requires a proper amount of watering. Your lawn probably doesn't need as much water as you – and many other homeowners – think. Every 5 to 7 days, give your lawn 1 to 2 inches of water.
Some Nutri-Lawn Ottawa lawn care services will require more water (temporarily) while in progress. For instance, following a beneficial nematode application, Nutri-Lawn Ottawa recommends keeping a lawn well-watered for 10 days.
When to water
The time of day during which your Nutri-Lawn Ottawa inground sprinkler systems runs is just as important as how much you give your lawn. The best time of day to water your lawn is pre-dawn. In these early morning hours, your lawn will be in cool enough temperatures in order to absorb water.
Watering at night, however, is not ideal. When you water at night, you allow the excess water to sit for several hours on the surface of the grass, creating the perfect breeding places for disease and mould.
Never mow when wet
Despite the fact that your mowing and irrigation may be on a 5 to 7 day Ottawa lawn care cycle, it isn't always the best approach to get both out of the way on the same day. You should never mow your lawn while it's wet.
Begin your new and improved lawn care regime this summer. Contact Nutri-Lawn Ottawa for a complimentary quote on outstanding lawn care services this summer!