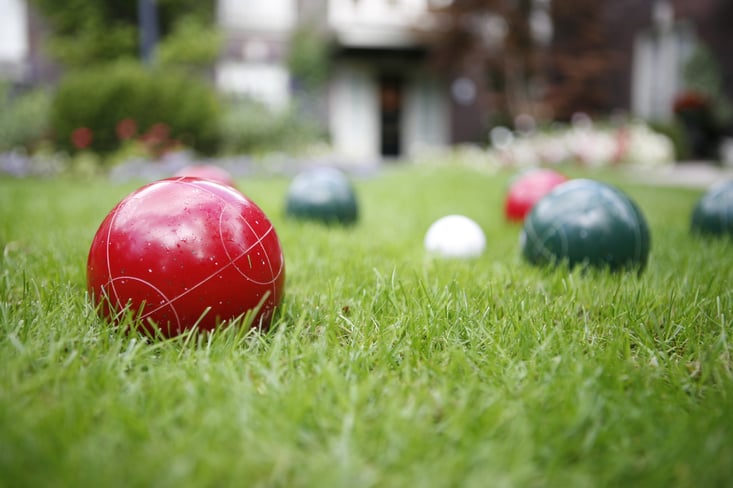 Do you take care of your lawn? Do you aerate and dethatch, water properly, overseed when appropriate, rake long grass clippings, and keep your lawn mower at the proper height for mowing? We know you care about your lawn and don't want to see all that time and effort wasted in a heat wave of 30+ Degree weather through July.

In Ontario, your grass won't stay green all summer (barring unusual weather) without help. Your lawn will need intervention to prevent it from going brown (dormant) this summer. For those who already have thriving, healthy, green lawns and want to keep them that way, here's our best tip: summer fertilizer.
Summer Fertilizer
Summer fertilizer is not recommended for the homeowner who is a novice at lawn care. The reason for is that a lot of people use summer fertilizer incorrectly and cause extensive damage to their lawns. We know you're savvier than that! The danger with summer fertilizer is burning the roots because the fertilizer doesn't get diluted enough or absorbed correctly because of insufficient watering. The other danger is sudden patches of uneven growth in your lawn.

Without summer fertilizer though, it's very likely your lawn will begin to turn yellow or brown and become susceptible to invasive weed growth. Clover is one weed that actually thrives when your lawn doesn't have enough nutrients.

Fertilizing during the most stressful growing season for your grass can be tricky. Promoting new growth without adequate water for new sprouts spells death in rather short order in this summer heat. That's a waste of time. Applying fertilizer and burning the grass so the roots die isn't particularly helpful, either. Some recommend using a pre-diluted liquid fertilizer to avoid some of these problems. Others will recommend fertilizing right before you expect a heavy rain shower. To be on the safe side, give us a call for a free quote.
Balance
Fertilizing on a balanced schedule throughout the season is very important. Use a slow release fertilizer specially designed to provide consistent nutrients over a longer period of time so the plant is fed regularly. Using a slow release fertilizer will reduce the risk of root burn. Nutri-Lawn Ottawa uses eco-friendly products that won't leach into water tables or cause other soil problems.
Grass Clippings
Grass clippings are actually a great source of nutrients for your lawn. When regularly maintained, grass clippings left on the lawn will break down quickly enough not to cause a thatch problem and deliver helpful doses of nitrogen to the soil. Grass clippings that are too long when mown will not break down fast enough and will create a thatch problem. Regular mowing and proper mowing techniques will create ideal conditions for clippings to break down in a timely fashion. This is a simple way to add nutrients to the soil and actually saves you time and work. That's a win win.

The lawn care experts at Nutri-Lawn Ottawa would love to answer these and any other questions you might have. Contact the experts at Nutri-Lawn Ottawa to give your lawn the edge it needs over weeds and the summer heat this season.