Zach Conohan is the Customer Service Representative for the Annapolis Valley region.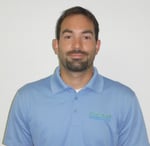 He grew-up in New Minas playing Soccer. He enjoys playing guitar, going fishing, hiking, camping and traveling on the weekends.
Zach has 2 dogs and enjoys watching Basketball & Football. He resides in Wolfville, NS and in his 4th season with Nutri-Lawn.
Zach is knowledgeable, friendly and admired by his customers.