If you are a new homeowner, you'll have lots of questions, especially about keeping your lawn in good shape. A beautiful home and lawn is something to take pride in and you won't want to be the person on the block who all the neighbours complain about because you let your grass grow knee-deep. But when do you do what? How often? Here are some lawn care tips which will leave your neighbours feeling envious instead of annoyed.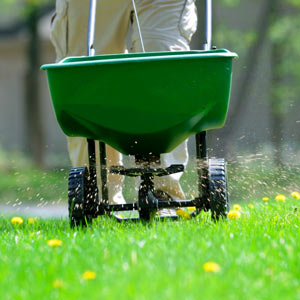 Once A Week
Mowing – don't set your mower any lower than 3" because you don't want to cut off any more than 1/3rd of the leaf blade. Any more could make your lawn susceptible to weeds, insects or drought. Mow in a different direction each time to keep the lawn straight and strong. If your lawn is small, consider an electric mower – less emissions & you don't have to worry about buying fuel – just make sure you have a cord that's long enough to reach your outlets
Grass Clippings – having a mulching mower is ideal, but regardless, leave your grass clippings on your lawn unless the grass is really long or really wet. The clippings act like a natural fertilizer as they break down, as well as helping to shade the soil from evaporation if there happens to be a heat wave.
Watering – if it's a dry summer, you'll have to water your lawn thoroughly, meaning approximately an inch of water per week. Don't forget to ensure your whole lawn gets covered, and make sure you water before 10am in the middle of summer so it doesn't evaporate too quickly. Keeping your lawn well-watered helps it to stay green and healthy.
Look for signs of weeds, moss or bugs, especially in the spring.
Quarterly
Fertilize – using a slow release fertilizer, like manure (organic) or sulphur coated synthetic to ensure your lawn is getting the proper amount of nutrients. It's a good idea to do a soil test to see how much potassium (makes your grass hearty) or phosphate (makes the roots healthy) is needed. When looking at a bag of fertilizer, you'll notice three numbers. The first number is the amount of nitrogen. Nitrogen is important for grass blade growth and keeping the lawn green, the second and third numbers are phosphorus & potassium, respectively.
Yearly
Over-seed with a perennial rye grass, using approximately 5 lbs per 200 square feet, keeping the soil moist; add organic lawn soil over the top, especially in bare areas

Aerate – pulling plugs of lawn up to improve drainage and allow oxygen to circulate. Rake in sand over the plugs to help with drainage.
Check the pH balance of your soil with a test, adding lime if the soil is too acidic
After reading this, you may be thinking, "wow, that seems like a lot of work." You're right, it is. If you can't imagine yourself spending this much time on your lawn, consider hiring a lawn care company to help you out. It's well worth it.
You're already on your way to a healthy lawn. If these tips have you interested in taking your lawn maintenance program to a new level, then request your complimentary quote from Nutri-Lawn Vancouver today!
Also if you'd like please click the link bleow to request a free quote!