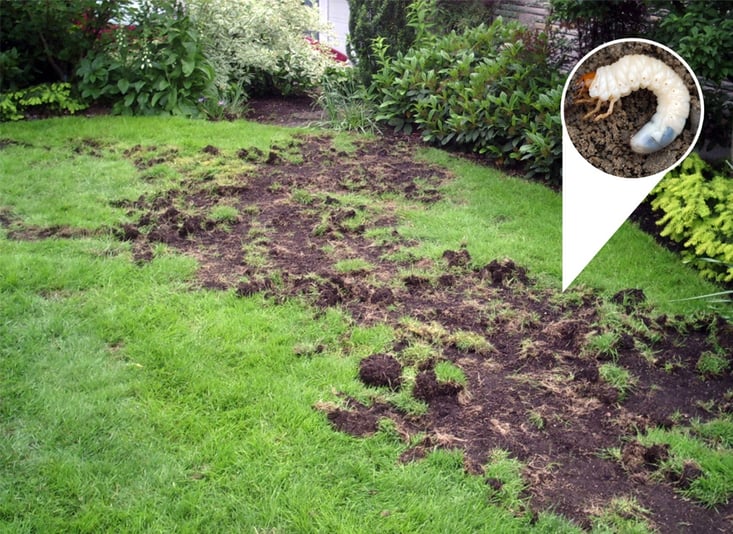 No homeowner likes to deal with the pesky nuisance of grubs. Once the warm weather hits, it's time to sit out on the patio, enjoy the barbecue, and spend time with friends. However, this is the time when your lawn is vulnerable to the consequences of severe winter weather. Around spring is when it is most important to strengthen your lawn and to prepare it for the upcoming heat with lawn maintenance. A strong, healthy lawn will have an easier time resisting grubs. Nutri-Lawn Burlington lawn maintenance services can help make sure your lawn is healthy to withstand the heat, and the damage of grubs. Read on to find out tips from Nutri-Lawn Burlington.
What are grubs?
It's important to know your enemy before the lawn maintenance battle begins. Grubs are the larvae of adult June beetles, European Chafers, Leather Jackets, and Japanese beetles. You'll recognize them by their distinctively curved white bodies and brown or tan heads. Their legs are thin and spiny.
Grubs are most vicious towards your lawn in the maturation period of their lives. This period differs depending on the type of grub, but can last anywhere from 1 to 3 years. They begin their feeding usually in April through October, though European Chafer beetles can come out as early as March and as late in the year as November.
How do grubs damage grass?
The damage is done when the grubs feed on your lawn. During the maturation phase, grubs need a lot of nourishment to keep growth going, and your grass roots look like the perfect food to their hungry stomachs. They weaken the roots of your lawn by chewing away at them. This exposes your lawn to other forms of damage, like heat stress and diseases, and makes it difficult for your lawn to absorb proper nutrients.
How can Nutri-Lawn Burlington help?
The most useful Nutri-Lawn Burlington lawn maintenance services offered for grubs are our beneficial nematode applications. Beneficial nematodes are tiny natural predators of grubs who will wriggle through your lawn to find the pest without damaging your grass. Nematodes don't bother eating your grass – they have appetites only for grubs, Leather Jackets, and sod webworms.
The great thing about beneficial nematodes is that they are not only effective, but they're entirely organic too. You don't have to worry about upsetting Ontario's ban on chemical lawn maintenance when you use grubs. Better yet, you don't need to worry about nematodes harming your pets or children following an application.
Unfortunately, however, nematode applications must wait until the grubs are undergoing a sensitive phase of life. Nutri-Lawn Burlington will assist you in setting up a date that works for you, and that will be most effective in ridding your lawn of your grub problem.
What can be done until nematode application?
The most important thing you can do throughout the summer to protect your lawn is to keep it healthy with good lawn maintenance practices. Water your lawn properly and regularly, providing it about 1 to 2 inches of water a week. Mow your lawn longer – cut off about 1/3 of your grass blades' height when mowing. Keep your mower blades sharp to avoid tearing at the lawn. Finally, Nutri-Lawn Burlington recommends you fertilize your lawn with something like kelp fertilizer, which will help your lawn resist insect invasions.
When you see an adult beetle, vacuum it up. If you kill the adult before it is able to produce larvae, you're going to have a smaller grub problem in the future.
Get started on green lawn maintenance practices today with your complimentary quote from the lawn care experts at Nutri-Lawn Burlington.