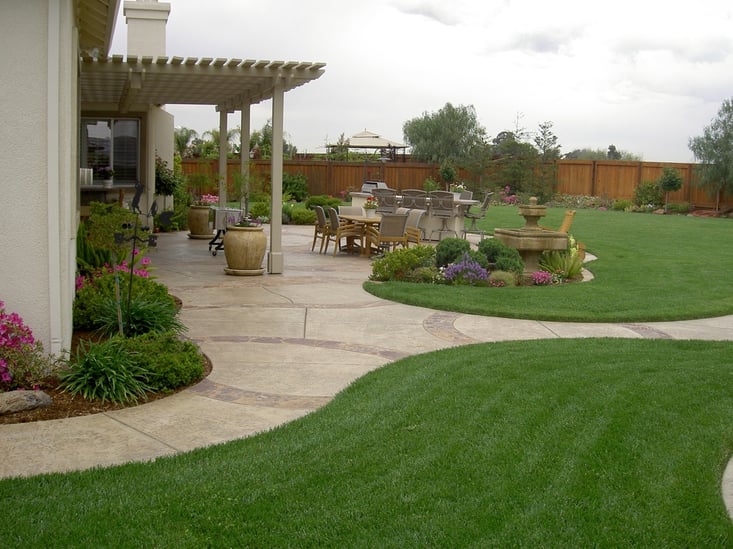 Now that the summer is coming to a close, perhaps you've realized how much time you've spent keeping your lawn in tip top shape when instead you could have been relaxing and enjoying those warm summer days. Or, you realize that your lawn looks terrible because you just didn't have the time to properly maintain it. If you don't want a repeat of this year next spring and summer, now is a great time to find a Burlington lawn care company to do the work for you. Here are some tips for finding the right lawn care company:
1. You Get What You Pay For
Your home is a reflection of you and you want your lawn and gardens to look great, so it may not be the best idea to hire the guy who advertises lawn mowing for $15. Proper lawn care goes beyond keeping your grass cut – it involves some knowledge and know-how, especially when it comes to the health of your lawn. Lawn health involves proper watering, fertilizing, seeding, aeration, soil testing and even proper mowing technique.
2 Have an Idea of What You Want
All that being said, if all you're looking for is keeping your lawn from looking like a weed-filled field, then hire the guy who will just come and keep it looking tidy. But, if you need weed control, or you think you might have disease or insects infesting your lawn, look for a company that has experience in those areas. If you are considering installing an in-ground sprinkler system, or currently have one that needs maintaining in addition to keeping your lawn healthy, ensure that the lawn care company has professionals who deal in irrigation.
Having an idea of the needs of your yard is also important if you have a limited budget. It's easier to get talked into unnecessary expenditures if you are unprepared.
3. Ask around & check references
You want to be able to trust the company you hire since it's likely they will be coming to your home when you are at work. If you know your neighbours, or co-workers get lawn service, ask their opinions. Reliability is important since the Better Business Bureau in the U.S. stated that last year they received more than 7000 complaints against landscape and lawn maintenance contractors. Don't be afraid to ask the company for references, but sometimes just a quick web search will offer plenty of information.
4. Ask About Additional Costs
It's important to avoid hidden costs since they can add up quickly, so look for a lawn care company that will come to your home, inspect your lawn and give a free estimate before you agree to let them do any work and don't be afraid to get quotes from a few different companies. Also, don't assume they have any guarantees or warranties on their work – get that information in advance. Get a written contract and ensure you understand what you are paying for, and what you're not.
If you would like to learn more about late summer lawn care, contact Nutri-Lawn Burlington today!