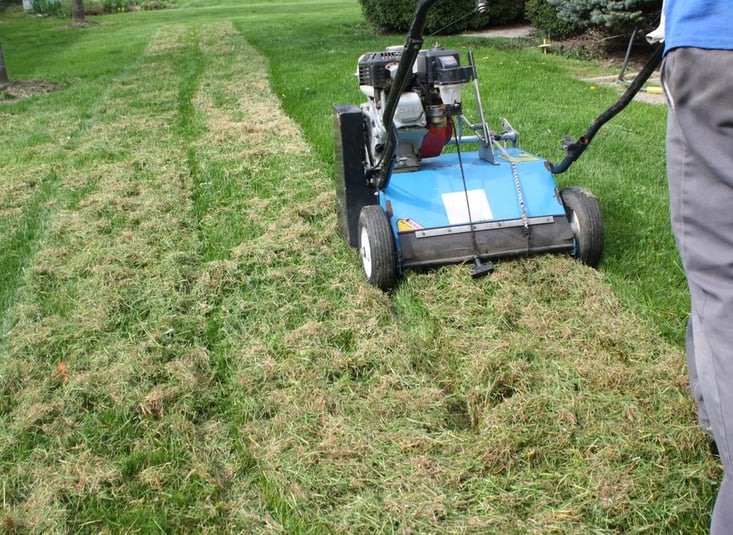 Dethatching is an intensive Vancouver lawn maintenance practice that's designed to improve the overall health of your property. With that being said, you should only tackle this treatment when your grass is at its period of strongest growth. In Vancouver, that time is now.
Since most Vancouver lawns feature cool-season turf, early fall is the perfect time to dethatch and prepare your lawn for a long period of winter dormancy. Dethatching in early September allows your grass plenty of time to grow and re-establish itself before the first frost.
Benefits of Dethatching
In order to understand the benefits of dethatching, you must first be able to recognize what thatch is and the issues associated with it.
What is Thatch?
Thatch is the layer of dead grass and plant material that lies between your turf and the surface of your soil. Many amateur lawn care professionals will wrongly call this beneficial "compost" material, when it is actually quite detrimental to your lawn. Too much thatch can suffocate your lawn, preventing your turf from receiving the oxygen, water, and nutrients it needs to stay healthy.
To ensure a healthy lawn in the spring, you need to prepare it for the rigours of a long, wet Vancouver winter. This means exposing the soil to warmth and sunlight prior to its dormant season. A dethatching Vancouver lawn maintenance treatment provides the following benefits:
• Healthy Roots
The thicker the thatch on your lawn, the more difficult it will be for your roots to receive the nutrients they need to grow strong and deep. And if your lawn's roots aren't healthy, your grass can't become full, thick, and resistant to wear. When you dethatch your lawn, you are helping circulate air, oxygen, and water deep into the roots. Not only does this help sustain current root growth, it encourages the development of newer, stronger roots.
• Improved Fertilizer Efficiency
Fall is prime time for a fertilizer application. Unfortunately, if there's thatch build up on your lawn, your fertilizers won't be able to properly blend with the soils. Dethatching your soil prior to your fall Vancouver lawn maintenance treatment will help ensure that you get the most bang for your buck… and your fertilizer treatment.
• Improved Drainage
Moisture is an essential part of any balanced lawn. With that being said, too much water, especially when it's pooled on the surface of your turf, is never a good thing. When your lawn is covered with too much thatch, moisture can't drain naturally. Over time, these puddles can damage your turf and eat away at your grass. A dethatching Vancouver lawn maintenance treatment helps ensure that water drains properly from your lawn, while also nourishing your lawn at the same time
Tips For Timing Your Dethatching Treatment
Make the most of your dethatching treatment with these tips from the Vancouver lawn maintenance experts at Nutri-Lawn:
• Make sure the soil is moist – not dry and not wet – during your dethatching treatment. This will help prevent damage to your lawn.
• Dethatch on a day when the weather is cooler to reduce the amount of stress your lawn will have to endure.
• Remember to mow your lawn to half its normal height prior to your dethatching treatment.
• Book your treatment now. Late-season dethatching can send grass into winter too weak to survive. Your turf needs time to recoup before the temperatures drop.
Dethatching is an important part of any Vancouver lawn care regiment. Contact Nutri-Lawn today to reserve your autumn lawn care treatment.