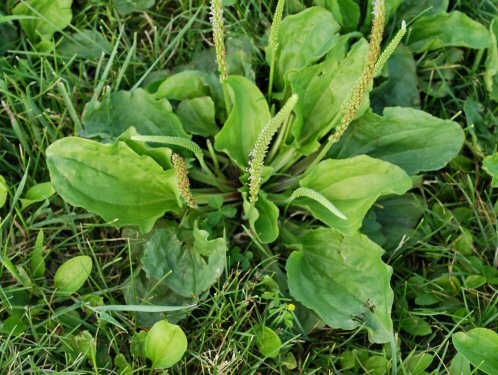 Broadleaf Plantain (Plantago major)
Life Cycle – Perennial broadleaf weed
Growth Habit – Basal rosette
Leaves – Leaf margins are wavy. The leaf shape is elliptic to oval and can measure up to 6 inches in length and 4 inches wide. The veins are prominent and parallel.
Roots – Small taproot with dense fibrous shallow roots
Flower Colour – greenish-brown formed on a spike stalk that can grow 6+ inches in length
Control – Easy to control


Broadleaf Plantain is a perennial broadleaf weed that is commonly found across Canada and the US. The primary growth period is from June through September. It is typically found on sites that are moist and with compacted alkaline soils. A dense fibrous root system allows it to survive low mowing heights. The leaves which develop in a rosette are large and oval shaped with prominent parallel veins. The seed head appears as a spike stalk and can grow vertically when left un-mowed.
If Broadleaf Plantain becomes a problem in dense established turf, selective post emergent weed control products are effective. The weed is generally considered easy to control with synthetic weed control products. Natural products offer more suppression than full control.
If you're interested in our Fiesta Weed Control services please click
HERE
or click on the link below to request a FREE quote.