6 min read
August is the beginning of fall in landscaping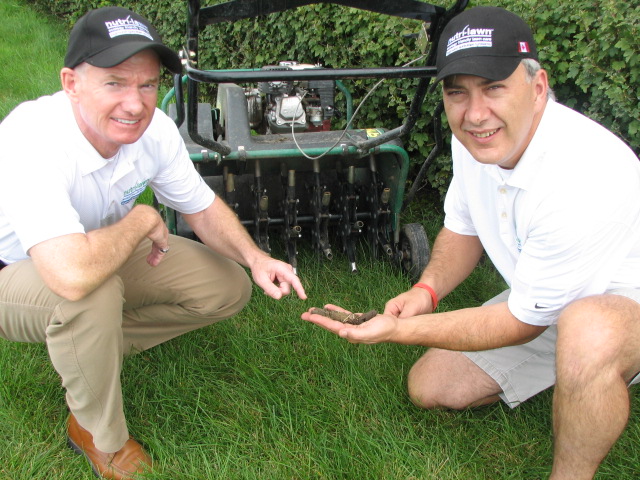 What to Expect in August
August is the beginning of fall in landscaping.
Thank you for being a Nutri-Lawn service group client. Only clients such as you who have signed or recorded their authorization will receive services.
As a locally owned business we are excited to be in our 33rd season and want to let you know what to expect this month as well as keep you updated on our additional services that add value and enjoyment to your home and business.
We are committed to you and our employees to offer a covid 'contactless' service. All employees are continually trained on the latest covid safety protocols.
To view the Nutri-Lawn service group tip sheets and resources, click the links:
---
LAWN CARE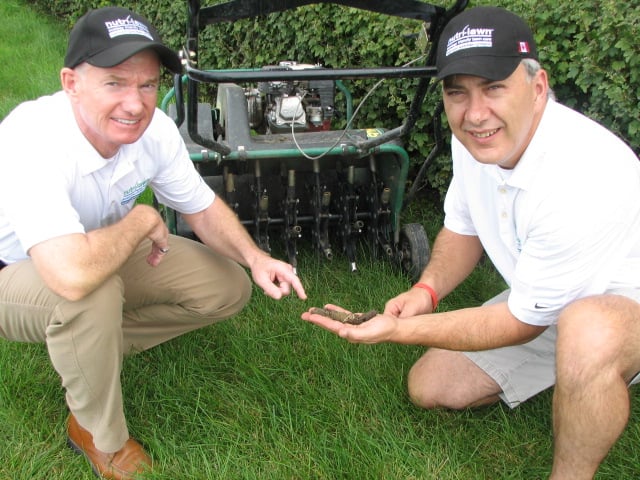 Although the calendar says differently, August is the beginning of fall in the landscape business. The evening temperatures are cooling to low-mid teens, the dews have returned, and the daytime temperatures are generally low-mid 20C. These are perfect growing conditions.
WEEDS: The return of cooler temperatures creates excellent growing conditions for weeds. We are currently applying the 3rd weed control applications. Some weeds are more difficult to control and may need a re-treatment so please let us know. We will be happy to return. To identify the uncontrollable or hard to control weeds, such as crabgrass, creeping charlie, etc., see our weed id sheet.
CHINCH BUGS: Chinch bugs are now developing into adults and will soon stop feeding on your lawns. Instead, they will be seeking areas to overwinter, such as in gardens, under bushes, and even under the flowerpots. You still have until mid-August to schedule your BioTitan® application if you still see damage occurring.
GRUBS: Grubs have been silently eating the roots of lawns all across the city. Our technicians are seeing damaged lawns that appear to be ripped up by animals or birds and/or brown areas developing, particularly around trees. GrubGONE!® is a biological grub control that is applied in a granular form using a broadcast spreader during the months of June to early September. We are in the last month of being able to apply grub control for the season. If you suspect that you have a grub issue, please let us know and we will be happy to help. Click for more information about grubs: Grub info. To shop for these or any other services, go to our Online Store, call/text us at 613-739-3399 or email ottawa@nutrilawn.com.
MOWING and WATERING: To get the best looking lawn, keep your lawn at 2.5 - 3" and never cut more than 1/3 of the leaf blade. We ask you to water 1 inch, once a week, or as needed in dry or drought conditions.
---
SPRINKLER SOLUTIONS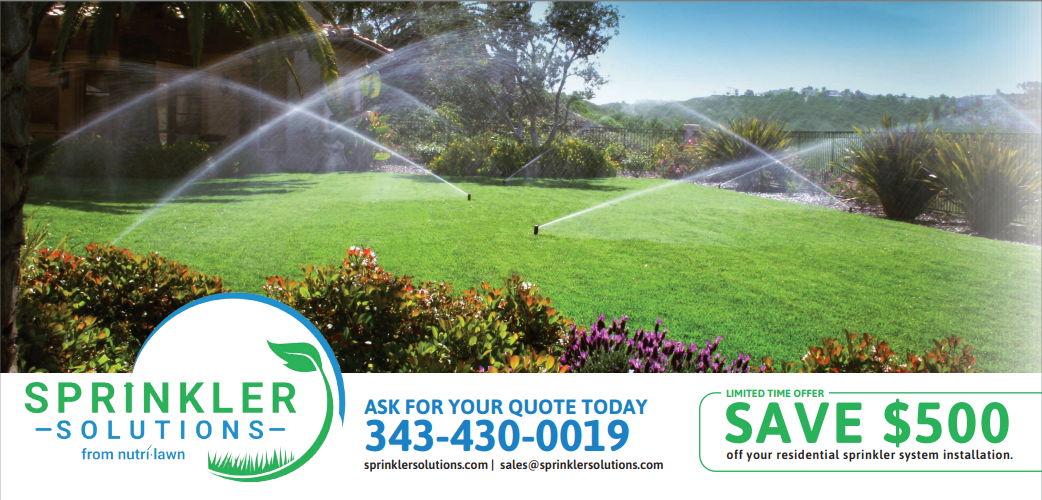 SERVICE AND INSTALLATION: Our Irrigation team is out in full force installing residential and commercial systems. Summer Promo: Save $500 off our residential inground sprinkler system installations. If you have considered having a system installed this fall, contact Martina and her team any time at 613-317-2332 or, visit us at SprinklerSolutions.com. For more information, click here:
---
MOSQUITO.BUZZ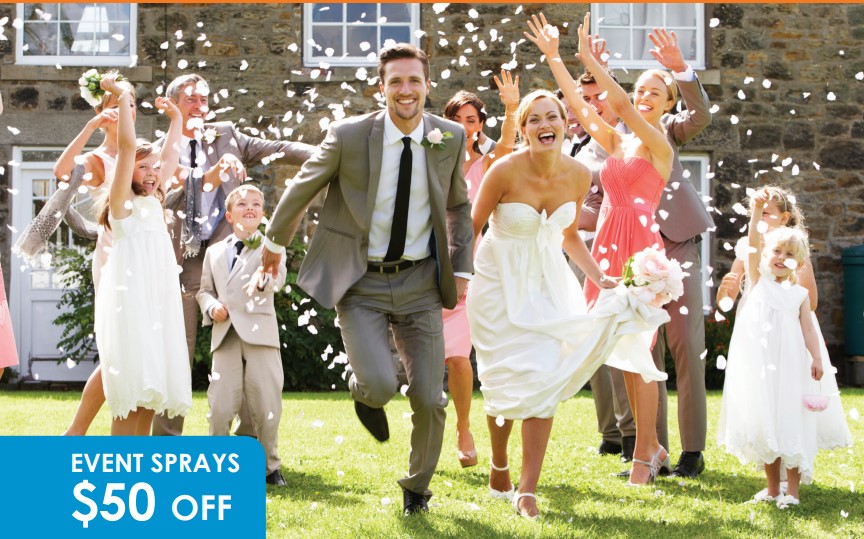 Don't have another barbecue without services from Mosquito.Buzz.
The cooler, wet temperatures this spring have been wonderful for the increase in mosquito populations. They are buzzing backyard parties everywhere.
SPECIAL EVENTS: Are you planning a wedding, hosting a party, or special outdoor event? Don't risk uninvited guests spoiling your big day! Our proven solution for mosquito control ensures a mosquito free environment for you and all your guests. Jay and his team will schedule two timely mosquito treatments before the day to ensure you are protected, so your event is a success.
For more information, visit us at: mosquito.buzz or call or text 613-231-2899 (buzz).
---
GLO OUTDOOR LIGHTING AND CHRISTMAS DECOR
GLO: There has been an increase in requests for GLO Outdoor Lighting estimates as the calendar turns to August.
People are planning their decorating themes for Hallowe'en, Christmas, New Year's eve, hockey season, basketball season, and so much more.
Lights are not just for Christmas anymore! GLO Outdoor Lighting is permanent and energy efficient with a kaleidoscope of colours & patterns that you can easily control directly from your smartphone.
CHRISTMAS DÉCOR: Our busy season begins September and October as the Christmas Season gets closer.
Most estimates can be prepared over the phone. Book your estimate now. Contact us today for a quote. Contact Jennifer, our lighting expert, at sales@GLOoutdoorlighting.com or see the beauty at GLO Outdoor Lighting.
On behalf of our entire Nutri-Lawn family, we extend the best health wishes to you and your family.
Thank you for your continuing business and support! See you soon.
Register and Manage Your Account Online: https://www.nutrilawn.com/my-account
Questions? Call or Text us at 613-739-3399.
Email ottawa@nutrilawn.com.
Yours truly, Thom Bourne and Your Nutri-Lawn Team