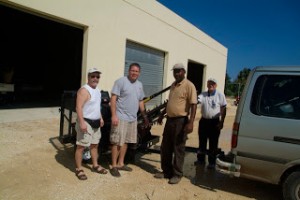 We left Punta Cana this morning and started our 3.5 hour trek across to San Pedro. Before leaving, we made a stop at Roco Ki golf course, a beautiful new Nick Faldo design built and maintained by Troon Golf. They were very generous in loaning us their brand new trencher for the installation of irrigation line and water lines for the village.
I was able to confirm the donation today of our pipe requirements. We are receiving 2000' of 1.5" PVC pipe courtesy of Corripo, a large Manufacturer / Distributor here in the DR.
Our Grader is on-site and ready to work tomorrow and the sod farm is delivering samples tomorrow as well. So all in all, a good first day, topped off with dinner at a corner taco stand in San Pedro.
Tomorrow's challenge is getting our Sea Container from the Port and through immigration!