Just recently I visited the city of Boston and had the oppertunity to see "up close" the oldest ballpark in America and one of the most recognized sports venues in the World, Fenway Park. Home to the 7 – time World Series Champion Boston Red Sox, Fenway Park opend over 100 years ago and is currently the oldest Major League Baseball stadium still in use today.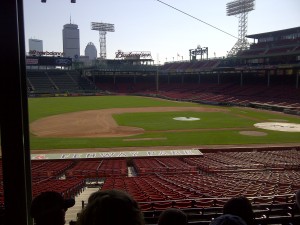 Fenway Park
To go along with all the history and as impressive as Fenway Park is with most of its original design and architectural features still intact, the natural grass playing surface was one of the things that excited me the most. Forget the original wooden grandstand seats, the retired hall of fame numbers lining the walls, or the famous Green Monster, the grass field has to be one of the most well maintained playing surfaces in all professional sports.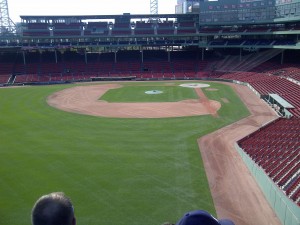 View of Fenway From the Top of the Green Monster
Having said this, apparently the field at Fenway Park didn't always look so perfect. What you see today in the result of a major renovation that took place in 2005. The original 93 year old field was completely replaced from the soil up. Compacted soil, unlevel playing surface, and poor drainage, were replaced with a new sand based growing medium, the playing surface was laser levelled, drainage was installed, and a special blend of Kentucky Bluegrass sod was planted to resurface the 2 acre playing field.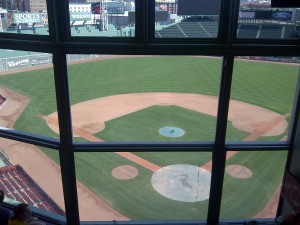 View From the Press Box
The grass at Fenway park is so popular that homeowners want the same grass in their lawns. Available for purchase are the Scotts brand, Fenway Park Kentucky Bluegrass seedmix , and Fenway Park lawn fertilizer that contain the same seed varieties and fertilizer technology used by the Director of Grounds, David Mellor to maintain Fenway Park.
As more and more synthetic turf surfaces replace the all natural grass surfaces, its always a treat to see such well maintained grass like i saw at Fenway Park.