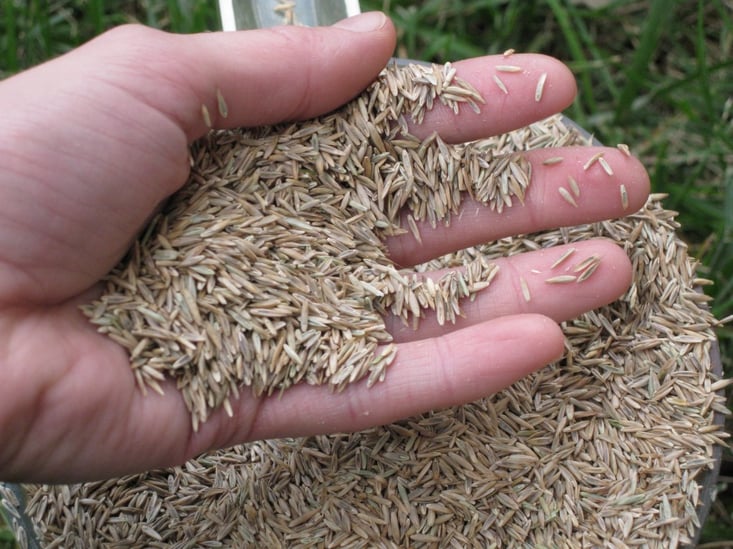 Winter is tough on your lawn, but revitalizing your grass doesn't have to be. If you're finding dead patches on your lawn following the great melt, don't despair. Overseeding can fix the problem without a doubt. Not sure what overseeding is? That's okay. Nutri-Lawn Burlington is here to give you all the facts. Soon, you'll be head over heels for overseeding lawn maintenance services. Read on to understand how and why overseeding should become part of your Nutri-Lawn Burlington lawn maintenance services this spring.
What is overseeding?
Overseeding, in the simplest of descriptions, is the application of fresh, new seed over needy areas of your lawn. Overseeding is most effective when you combine a couple of seed varieties in order to benefit from the strengths of each grass type. A hybrid seed that is matched to your region's climate, your soil type, and your lawn maintenance habits will help ensure that you won't need to overseed as much of your lawn next spring. Talk to an expert from Nutri-Lawn Burlington if you need help finding a variety or hybrid that suits your lawn's needs.
What are the benefits and reasons for overseeding?
As mentioned, overseeding can be done after a lawn has been ruined or destroyed following the winter. This creates patches that are brown, dead, and crunchy. Not only does this make an unattractive view from the porch, but it also makes for an uncomfortable running area for children.
Overseeding is a simple service from Nutri-Lawn Burlington that revitalizes the freshness and softness of your yard. It also renews the health and vitality of your lawn. Remember that a team is only as strong as its weakest link. When you have weak areas of your lawn, it takes away the nutrients from the rest of your grass to try to renew itself. Unfortunately, it won't replenish the nutrients necessary without creating serious risk to the rest of your lawn. When you overseed, you remove that weakest link to replace it with a stronger team player.
Finally, overseeding enhances the curb appeal of your lawn. It makes sure that you make the most of that natural carpet for your children and pets to play on. Why not look out on your lawn with pride at the emerald beauty that it can be.
Preparing for overseeding with lawn maintenance services
Before you overseed, you need to remove the dead grass. This can be done easily with a trowel or rake. If you have a pile, add the dead grass to your compost to create a beautiful fertilizer to be used in your Nutri-Lawn Burlington lawn maintenance services in the future.
Next, you'll want to lay down fertilizer, manure, or compost to the area that needs to be overseeded. Fertilizer is a necessary step in your lawn maintenance services to replenish the nutrients stolen by dead grass. Following an overseeding application, make sure to add topsoil to keep your new seed stationary and help the soil retain water.
It's time to overseed
Now that you've prepared your lawn with the proper lawn maintenance services, it's time to begin overseeding. Overseeding is best done in spring or fall. If you want to get the most out of your overseeding lawn maintenance services for the summer season, then you'll want to overseed soon. Overseeding in the spring and fall will provide enough time for the grass to grow before extreme weathers – hot or cold – hit.
Are you ready to get started on your expert lawn maintenance service program? Contact Nutri-Lawn Burlington today for your complimentary quote.