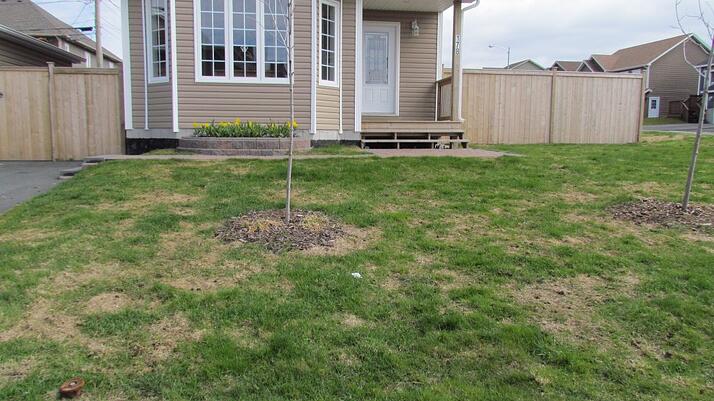 Snow mold is a fungal turfgrass disease that commonly affects lawns in early spring. The Symptoms and visual damage are very evident as the snow melts away and brown matted down circular patches of turf ranging in size from a few inches in diameter to over one foot cover the lawn. Depending on the severity of disease activity, these patches coalesce together and form bigger patches when the conditions are favourable for the disease.
Pink snow mold also commonly referred to as Fusarium Patch, and Gray snow mold also known as Typhula Blight. Pink snow mold poses a greater risk for more severe damage and can be identified with the distinctive pink coloured mycelium. Damage to the roots, crowns and leaf may cause plant death and require renovation to bring back the lawn in these areas. Unlike pink snow mold, gray snow mold mycelium is greyish white in appearance and requires snow cover for infection to occur. Damage is usually only minor on the leaf blades and the turf can generally recover on its own from this damage.
Most of the turf species that make up a home lawn including Kentucky Bluegrass, Fine Fescue and Perennial Ryegrass are all susceptible to snow mold. Although preventing snow mold disease can be tough, a few things to consider before going into winter to better prepare the lawn include:
Proper Fertilization (avoid applying excessive nitrogen)
Mow the lawn at the recommended height until it stops growing
Rake up leaves, clippings and other debris before snow cover
Core aerate and remove undesirable thatch accumulation
Although the appearance of the lawn with snow mold can look rather rough, this typically only lasts for a couple weeks until the lawn wakes up from dormancy and begins greening up and growing quickly. As the lawn begins to dry up, lightly hand raking away the brown matted down areas can also help speed the recovery process up. If more severe snow mold damage has taken place beyond just cosmetic, aggressive renovation practices may be required to repair these areas. Cultural practices such as Core Aeration, Overseeding, Topdressing and Slitseeding can help with this.