5 min read
Weed-Proofing Your Lawn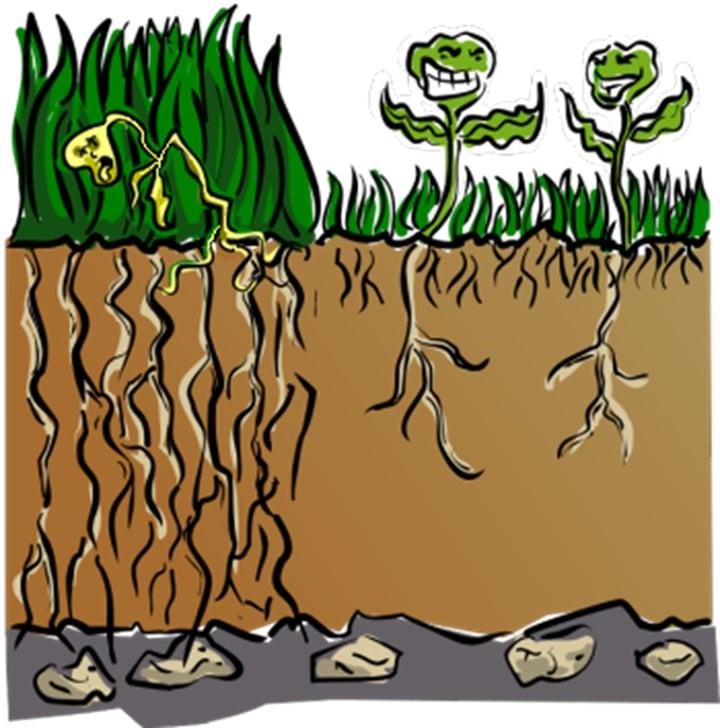 One of the most common questions we receive from new clients is "How do we permanently rid our lawn of weeds?"
Depending on where you are in Greater Vancouver, the Municipal By-Laws can vary, but in most areas the use of "Weed Killer" products are banned.
So where does that leave you and your lawn? Let's take a look at the picture above for a moment. Notice that the weeds on the left are shriveling and dying, but the weeds on the right are thriving?
Root Systems
All plants have roots that act like a nutrient and water delivery system as well as a way to allow the plant to stand upright.
In order for a weed to survive in your lawn, there needs to be room in there to allow the roots of the weeds to grow and flourish. Without that room, it is hard for a weed to germinate in your lawn.
This means that the best way to prevent weeds (or other plants for that matter) from taking over your lawn is to ensure that the grass is the healthiest that it can be so there is no room for the weeds to move in!
Getting and Keeping a Healthy Lawn
Did you know that a healthy lawn will offset 50% of solar heat through cooling evaporation? On sunny days, surface air temperatures over lawns stay 10° to 14° Fahrenheit cooler than over asphalt or concrete!
Now that we have our inspiration for getting that healthy lawn, let's look at how it is done. First things first, all living things need food and water.
Food comes in the form of fertilizer. Typically, this will come in the form of granules that one spreads on your lawn, and requires some watering in order to activate. There are many different types of fertilizer that you can purchase anywhere lawn care products are sold, however, they are not all the same.
Rather than spending your precious time figuring out application rates and proper N-P-K ratios, Nutri-Lawn of Greater Vancouver has you covered! We use the very best professional products which are applied at the right time, in the right amount, by our trained and licensed Technicians.
Feeding - check! Next up, watering and mowing!
Home-owner upkeep is a very important step that can make or break how healthy your lawn can be. We recommend deep watering of 1" in depth once every 5-7 days. This deep watering teaches the roots of the grass to stretch further into the soil. In going deeper into the soil, the roots are better able to find the water it needs hiding below the soil lines in-between waterings. Check out our video here for more watering tips!
Mowing the lawn can, for some, be an almost zen experience, and for others, the worst part of their week. Whomever is mowing your lawn, the one thing more than anything else is most important to remember: The length of the blade is equal to the length of the roots. Because we now know that longer roots are helpful to the health of the lawn, we want to keep our grass at a length of 2 ½ - 3" in length.
The Importance of Seeding and Aerating your Lawn
Often a Core Aeration is referred to as the most beneficial thing you can do for your lawn. Why? Simple, all the benefits that it can provide: better air flow, decompresses the soil making it easier for root growth, reduces thatch, allows more sunlight, reduces insects and diseases that live in the thatch layer.
Your core aeration should be done each year in the spring or fall (or both if you are experiencing poor drainage) and goes best when also paired with a seeding.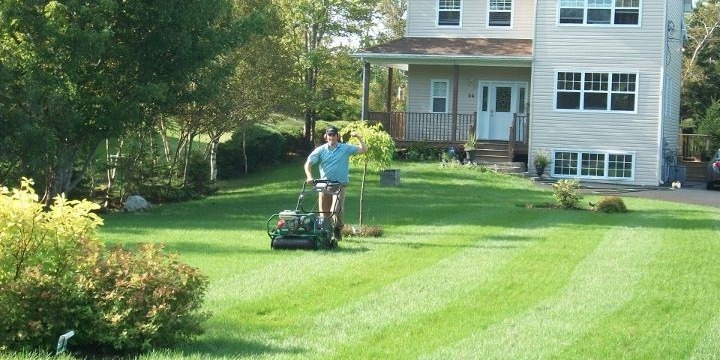 Did you know that because we mow our lawns, they don't get the chance to produce seeds themselves and re-populate your lawn? Unless new seeds are introduced every year or two, the grass plant itself grows old and dies without anything else to replace itself. These open spaces in the lawn, just like our picture at the start of this article, allows for other plants to take that space and grow.
Your local home and garden store will of course carry grass seed, but what a lot of homeowners do not realize is that the grass types contained in those bags do not provide optimal germination here in Greater Vancouver due to our specific weather patterns and lack of cold, hearty winters. Here at Nutri-Lawn of Greater Vancouver we use local, certified seeds that are designed for optimal germination here in Greater Vancouver.
By-Law Friendly Weed Control
As weed seeds can travel as much as 5 kms (!) it is very common that they will blow into your lawn from neighbouring lawns. Depending on where these weeds germinate, we have two options to cover you:
Fiesta Weed Control

: this is used in your lawn itself to provide an iron-based solution to get rid of the current weeds in your lawn.

Hardscape Vegetation Control

: are you finding weeds growing in your driveway, walkways, decking or interlock bricks? Our horticultural vinegar will help to rid your hardscape areas of those unwanted weeds too!
Some weeds will need a few applications before full coverage is obtained. The reason for this is how these products are taken into the plant, through the leaves. Therefore the smaller the leaf or if it is shiny or fibrous the more applications it will take to get that initial control.
This is an important step in establishing a healthy lawn as when weeds are present in the lawn, it is a sign that the health is not at its' best (like a sniffle to a cold). Weeds will then start to take the food and water nutrients from the grass which will then in turn start to lose colour and health. That's why here at Nutri-Lawn of Greater Vancouver, we recommend that all lawns receive at least 2-3 sprays every year. But as the health of your lawn increases, you will need fewer sprays.
Conclusion
A weed-free lawn is not something that is going to happen overnight nor, once it is established, will it remain healthy without ongoing attention.
Proper fertilizer, mowing, watering, aerating and seeding all done at the right time and done with the right products make all the difference in the world. Remember, the more room in the soil being taken up by the roots of the plants that you want (ie. Grass) the less room there is for weeds to germinate and grow.
And before I go, don't forget that your team here at Nutri-Lawn of Greater Vancouver is always happy to help! Give us a call, or text - check out our social media accounts or shoot us an email. Your lawn will be very happy that you did!