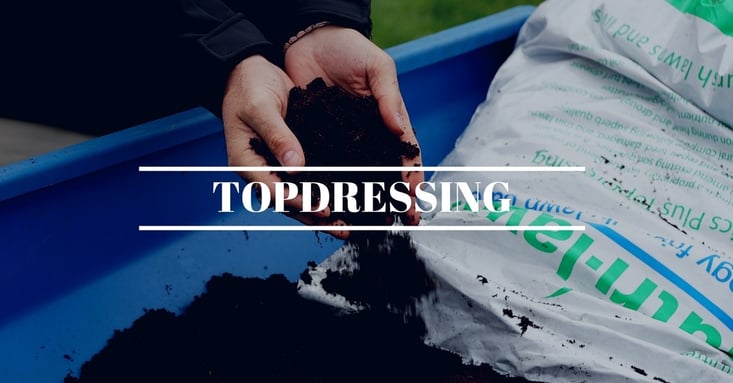 Getting the perfect lawn isn't easy. It takes time, effort, and attention to detail that can be straining on a Burlington lawn care schedule. So why not make it a little simpler? There are certain techniques and tools you can use to make your lawn care services more effective and efficient, without adding a burden to your Nutri-Lawn Burlington lawn maintenance. Topdressing is one such tool that can simplify your gardening. If you're interested in finding out the myriad benefits of topdressing, read on for the information from Nutri-Lawn Burlington.
What is topdressing?
Topdressing, in short, is a nutrient rich soil that is added to the surface of your lawn or gardens in order to re-introduce health to your plants. Topdressing is really any soil-like material that will renew old soil in your lawn. It can be an organic material, often with a sandy loam or loamy mixture, depending on the needs of your lawn care services. Some homeowners even use finely ground compost for topdressing.
What lawn care services use topdressing?
Topdressing can be used in many areas of your lawn care services. Its uses in Burlington lawn care are many, but the most common are spreading it across the surface of your grass or in your garden. Topdressing can be used in any area where water retention is lacking, or in areas that need a renewal of nutrients.
Topdressing is often used in the process of planting. In Nutri-Lawn Burlington lawn maintenance services such as overseeding or when you plant a garden, topdressing is mixed into the pre-existing soil to create a strong foundation on which the new organisms may grow.
Topdressing can also be used to smooth the surface of your lawn. This is a popular reason for many homeowners to include topdressing in their Burlington lawn care routine. Topdressing removes bumps from the surface, creating a more even lawn to enhance curb appeal.
What are the benefits of topdressing?
Topdressing is an arduous task. It takes a lot of work to ensure it is spread evenly and accurately across the surface of your lawn, making it a highly time consuming task, as well. When you get a Nutri-Lawn Burlington expert to topdress for you, you make sure the job is done well and hassle-free. This will bring in all the benefits topdressing has to offer.
Topdressing, as mentioned, will make the surface of your lawn smoother, and it helps in overseeding and other lawn renovation programs from Nutri-Lawn Burlington.
Topdressing increases soil quality while decreasing the presence of thatch on your lawn. Thatch is a build up of organic material that hasn't had the chance to decompose entirely on your soil's surface. It suffocates your lawn, and prevents it from getting water and other nutrients.
Topdressing will also increase drainage quality on your lawn if you make application an annual routine. Finally, topdressing helps to protect your lawn from damage during the cold winter months.
If you're ready to begin on a great Burlington lawn care routine, contact Nutri-Lawn Burlington today for your complimentary quote.