With the NASCAR Sprint Cup Series heading to Talladega Superspeedway this coming weekend, I was lucky enough to be live on location in Alabama to see first hand how thebermuda grass infield gets prepared just days before the big race. With crowds expected between 150 000 – 200 000 race fans, all eyes will be starring down at pit row and towards the finish line so the turf certainly needs to look its best.

Standing on the edge of pit row just in front of the grass infield I saw up close how the turf was being prepared. Along pit row is where the 40 + race cars will make a combined 500 + pit stops to make it through this 500 mile race so dozens of sponsors will have their company logos painted into the grass infield and displayed for the hundreds of thousands of spectators watching live and the millions of viewers watching the race on TV.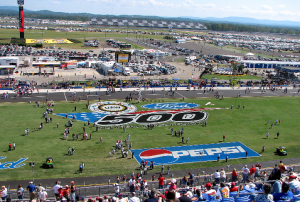 Talladega Logo's Painted in Grass Infield
To help cover up some of the imperfections in the turf such as weeds and stressed areas, the grass infield was being painted with a dark green paint to make sure everything looks perfectly uniform. This process takes some time, similar to painting a wall in your house. Several layers and coats of paint are required to ensure this uniform colour consistency. Once this is completed, the sponsors logos are outlined and painted in the grass infield and their brand is displayed brightly very similar to the same thing you see on football fields in the endzone.
A lot of preparation goes into each NASCAR event both on and off the race track and at Talladega the famous grass infield is no exception as the turf needs to look its best too on race day.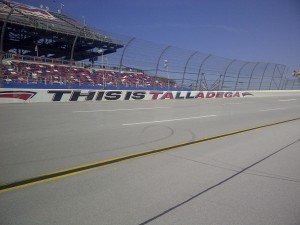 This is Talladega Superspeedway