Can you believe it's almost springtime? It seems like just yesterday that we were winterizing our irrigation and preparing our gardens for the cold. Now it's time to turn those Ottawa landscape services on their heads and prepare for the warmer weather!
Spring landscape maintenance has a certain hopeful feeling to it. Soon the frost will fade and we'll all get to spend more time in our yards, rather than trapped inside. If you want to really enhance the hope and reduce the work, bring in Nutri-Lawn landscape services. For now, here are some things that Nutri-Lawn Ottawa recommends you include as part of your weekly maintenance to make sure your lawn starts off on the right foot.
Freshen Up the Mower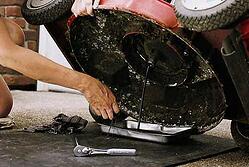 In order to have great spring landscape maintenance, you need to make sure your equipment is up to speed. Clean up your mower, and sharpen the blades. The sharper your mower blades, the healthier your grass will be. Dull blades rip and tear at your grass and weaken the plant. Nutri-Lawn Ottawa also suggests adjusting the height of the blades, so that they aren't chopping off no more than 1/3 of the grass height at a time.
Finally, ensure your mower isn't rusty. Oil it up so that it's in its best working condition. Check the motor, and all of the parts. Replace any that aren't in good condition.
Don't Let Snow Clump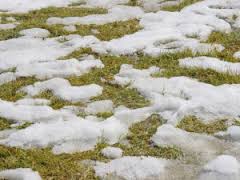 Throughout the winter, probably your last thought was to spread the snow around your yard so it didn't clump. Now that spring is here, however, thinning out clumps is an important part of your Ottawa lawn maintenance program.
Slow melting mounds of snow can encourage the growth of fungi and disease. When there's more water than the soil can absorb, mould will begin to thrive, your grass will get ruined, and there will be large spots of dead grass around your lawn.
Renew Your Lawn
Spring is the time for new life, new stages, and a fresh outlook. So why can't your grass have the same renewal? If you want to have flawless spring landscape maintenance, then overseeding is a must have.
Overseeding is the practice of spreading new seed over a weakened or dead lawn. Overseeding is a lot of work. Thankfully, Nutri-Lawn Ottawa can take care of overseeding for you so that you have the freshest, most verdant lawn possible for the summer.
Let Your Lawn Breathe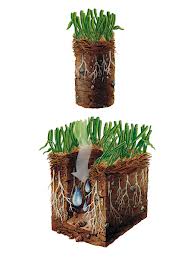 Your lawn has spent a long few months buried under snow, suffocating. It's time to let your lawn breathe a little. Core aeration is one of Nutri-Lawn Ottawa's services that you'll need to bring your lawn back to life.
Core aeration pulls tubes of soil out of your lawn to reduce compact, and create tunnels for oxygen and minerals to enter deeper into your soil. This ensures your roots are getting the nutrients they need, and the room to grow.
Fertilize Properly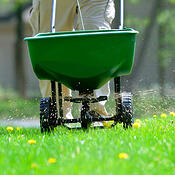 Fertilizer is one of the top landscape services that is best done in autumn, but if you didn't do so, then spring will work well too. It may be handy if you have just overseeded to make sure your new seed has enough food to survive.
However, you don't want to suffocate your lawn with fertilizer. Balance is key. Talk to a Nutri-Lawn Ottawa specialist to find out what kind of fertilizer practice you should include in your spring landscape maintenance as each lawn requires a different kind of fertilizer balance.
For the best Ottawa lawn care services, call in the pros. Nutri-Lawn will help you get the best possible lawn this season. Receive your complimentary quote today!