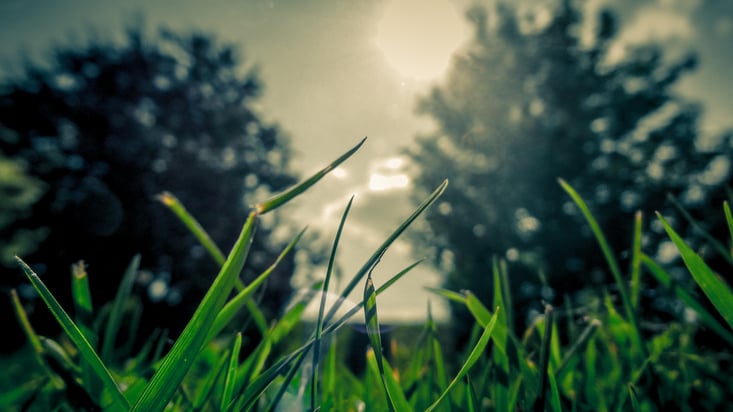 It won't be long before July and August's heat and drought do a number on your lawn. Will your grass stay green and thrive in whatever summer throws at it? If the idea of a dormant brown lawn frustrates most homeowners, and we understand. Don't wait until your lawn has one foot in the grave before calling in our lawn care experts!

Here are some tips to help get your lawn prepared to withstand the summer extremes in Vancouver.
Dethatch
Thatch is organic matter that doesn't decompose quickly enough and stays on top of the soil creating a thick layer that repels water and shelters bugs. And where bugs congregate, shelter or hang out, *wink wink*- stuff happens. And then you even more bugs destroying your lawn the following year.

Cut the shenanigans short by dethatching your lawn. Dethatching and aeration are best done in the fall, but can be done at other times if necessary. Getting rid of the thatch forces the pests to move on to more friendly locales and hopefully leave your lawn alone.
Smart Seed Choices
Grass seed comes in a wide array of varieties, and only some of them will thrive in our Canadian climate. These will be cool season grasses because they are more drought tolerant and can withstand our winters. If you choose a warm season grass variety, it will not survive as well or require a lot of maintenance.

Ryegrass, Bluegrass, and Fescues are often sold as mixes because they each contribute valuable strengths to your lawn. Together, these varieties will repel insects and disease, and are fairly drought tolerant. Part of the way they survive drought is to go dormant, or brown, in the summer. With adequate water, the grass won't go dormant but stay lush and green all summer.
Lawn Care
Grass is fairly tolerant of many conditions, but if you want a lush lawn that stays green all summer, it's important to follow the following lawn care tips.
Water Well
Only administer 1-2inches of water on your lawn at a time. Under normal weather conditions, you should only need to water your lawn once a week preferably during the earlier morning hours. During a heat wave or drought conditions, you may need to water more frequently, but you shouldn't exceed that 1-2inches of water at a time. Too much and too little water stresses the grass. Ideally, you want to avoid stressing the plant as much as possible.
Mow Wisely
Grass kept mown a little longer is better able to thrive in heat and drought conditions because it shelters the soil keeping it cool and moist longer. Grass mown too short is stressed and will go dormant a lot faster. It's also more susceptible to insects, disease, and weeds.
Raise the deck on your mower to 2.5-3 inches. Mowing during the hottest part of the day or during a heat wave puts extra stress on the plants. In a heat wave, only mow enough to keep the lawn neat.

We would be happy to answer your lawn care questions. Request a free estimate today! Contact the lawn care experts at Nutri-Lawn Vancouver to give your lawn the advantage it needs over weeds and extreme weather this summer.