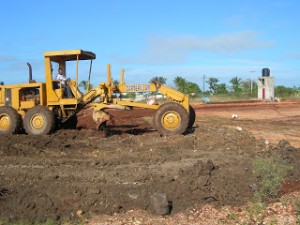 This morning came early after a good night sleep in a bunk room that I shared in the clinic but the cold shower took care of the cloudy morning mind.
The grader operator was up and running by 7:00 a.m. and now it is noon, he has the makings of a field in front of me. I staked off an area 210 feet long x 120 feet wide this morning when he started and he has been doing a great job so far. In the background, you will see the makings of our pump house. I pre-ordered a well to be drilled so we could draw water for our Toro irrigation system. I was hoping for a drilled well and a well head but in the Dominican, every well comes with a concrete building and a tank on top for gravity feeding water when the power is out (70% of the time, there is no electricity).
I am waiting for the arrival of our PVC pipe and a visit from the local sod farmer.....getting our container from the port is not going well so far.I made arrangements for some local labor to assist us for the week. We will have 5 Dominican's help our team of 11, and on Thursday, I am trying to get 15 men to work with us as we hope to complete the field and lay an acre of sod. Labor in the Dominican get's paid $5.00 per day, and the sugar cane workers get paid by the ton of cane cut and loaded and on average, make $3-$4 per day. On the orphanage, and with the help we have hired, we will pay them a bit more, but we have to be careful that we don't set a precedent for the full time staff that work here.