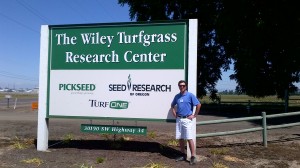 Have you ever wondered where grass seed comes from or where it is grown? To help answer that question I had to travel to the Pacific Northwest State of Oregon to see where it all takes place. Situated in the Willamette Valley, Linn County known as "the Grass Seed Capital of the World" is home to over 1500 grass seed farms, covering over 500 000 acres of land, and yielding over 700 million pounds of grass seed annually! Amazingly, all but 2% of the grass seed produced here is shipped out of state and around the world. Linn county is truly the birth place of seed production, and it is with the ensured highest quality that continues to regard Oregon with the reputation as the worldwide leader in seed production.
Seed Research Facility - Oregon
The cool moist winter, and dry warm summer climate throughout the Willamette Valley make growing conditions very ideal for grass seed farmers and allows them to produce the highest quality of seed for worldwide distribution. Field after field, farmers are growing just about every cool season turf species including, Kentucky Bluegrass, Perennial Ryegrass, Creeping Bentgrass, Fine Fescue, Tall Fescue, as well as forage type grasses too.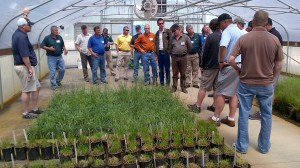 New Varieties of Turf in Greenhouse
I had the opportunity to visit the Seed Research of Oregon facility and learn from the members of their professional team and research scientists just how the seed production works from start to finish. As you can imagine this is no simple process and takes years of research and development to bring a final product to market. Some of these important steps include carefully selecting plant varieties, breeding the plants, monitoring and evaluating their performance, commercializing and moving into field production, harvesting the crop, screening and cleaning the seed, sampling for purity analysis, until the product is ready to be shipped and sold.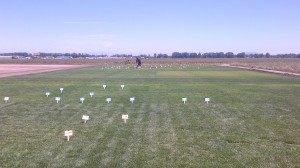 Turf Plots at the Research Facility

Many industries including golf courses, lawn care operators, landscapers, nursery sod growers, and sports field managers are all faced with tougher and tougher challenges each day to maintain the highest quality of turf. As seed research and development continues, selecting the species and varieties that have been specially designed to help combat the challenges of drought stress tolerance, insect, and disease resistance, require less fertility, can tolerate effluent water quality, and germinate quicker are just a handful of the qualities that will help turf managers maintain and grow healthier turf.

Seed selection has never been so important, and that's why at Nutri-Lawn, we have carefully selected these different grass types with the top performers for each environment and growing condition. Whether it be in the sun or shade, or for new lawn establishment, or just anoverseeding we always ensure the highest quality of seed.