Inspiration to "Nourish Lives"
We all know individuals and families in our communities who have encountered and faced difficult circumstances….and have over come adversity to give inspiration to everyone they encounter. They "nourish" lives.
Cindy Desjardin is from Holland Landing, Ontario a small town north of Toronto. Last year she developed "flesh eating disease" masked by symptoms that she and her doctors thought were originally a bad flu. As detailed in her blog below, she is lucky to be alive. To save her life, her arms had to be amputated below her elbows and her legs below her knees.
While her recovery has come a long way in a short period of time, she faces a hurdle of raising $104,000 for myoelectric arms. She has had a lot of support…and the East Gwillimbury Men's Hockey League raised $10,000 at its annual golf tournament in June towards Cindy's new arms.
Nutrilawn donated 50,000 Aeroplan miles which was matched by Futura Loyalty Group towards a live auction for 100,000 Aeroplan miles.
Nutrialwn sponsors a team in the East Gwillimbury Men's Hockey League where Ted Dzialowski, Executive Chairman of Nutrilawn, was the Commissioner from 1996 to 2008. Ted continues to lace them up for the Nutrilawn team (and 3 other teams in different leagues as well).
We had a fun time at our golf tournament with our Nutrilawn foursome of Ryan Vincent, CEO of Nutrilawn, Jordan Lavin, COO and Dave McVey, Nutrilawn Toronto GM.
It was a great day when I met the Desjardin family with my hockey friends to give the Leagues $10,000 cheque towards buying Cindy's arms. In the picture below, presenting the cheque to Cindy is Glenn Macdonnel, the current Commissioner of the League and the Director of Special Olympics in Ontario when he's not playing hockey. To his left is Peter Wiesner, the Leagues Treasurer. To my right is Cindy's husband, Marc, holding their young son Liam. Behind me is Jeremy Farrow, the Desjardin's neighbour and player in our League who brought Cindy's need to our attention and Dave Carter on his left who is on our Executive.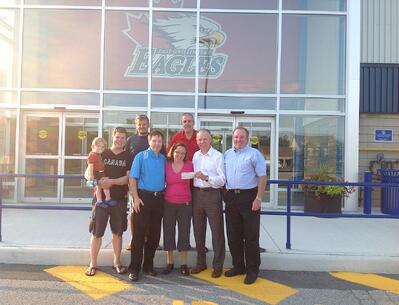 (Click to view larger)
We wish Cindy every success in her continued recovery and her inspirational journey. You can read more about her story and contribute towards her fund raising on her blog.
Cyndisstory.com Nutrilawn is active in helping many causes in the communities from coast to coast through our Re-Nourish initiatives where we "nourish lawns and lives."