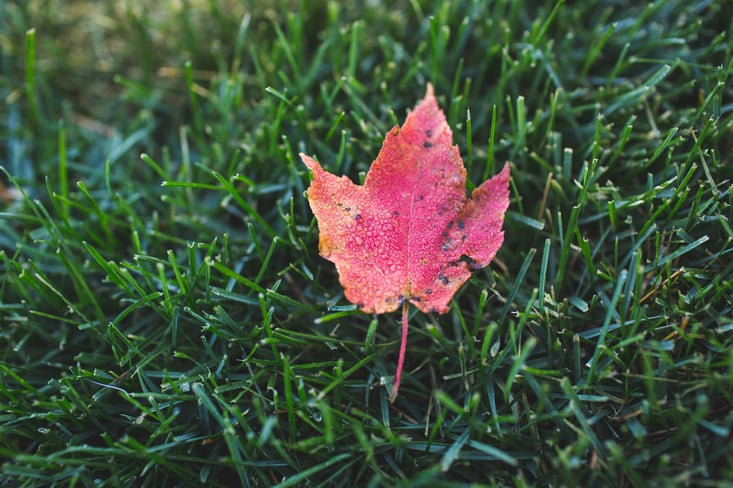 Pop quiz: What season is the busiest time for lawn care in Burlington?
If you answered spring, you might be surprised to learn that you're wrong. While spring is definitely a busy season, fall is actually the time when your lawn needs the most tending to. This is because Burlington lawns are comprised primarily of cool season grasses. Cool season grass types, like bent grass, Kentucky bluegrass, and fine fescues, all tend to grow more vigorously during the months of September and October. Preserve this growth and protect your lawn from the rigours of winter by closely tending to your turf with lawn care in Burlington services this autumn.
Tasks to Tackle in Late Summer and Early Fall
Cool season grasses are just entering their second growth spurt of the year come the end of August. This is when your lawn recovers from the dryness of summer and fills out before winter. Help it along by scheduling some of the following services:
Core Aeration
Aerating your soil in the early fall won't just help loosen it up from summer compaction, but it will also help it soak in more nutrients during this prime growing period. Aeration opens pathways for air, water, and nutrients to move freely down to your turf's roots. Ideally, this is the first lawn care in Burlington service that you should undertake; doing it now ensures that your lawn has enough time to recover before the first frost of winter.
Dethatch
Thatch is to turf as compaction is to your soil – a suffocating symptom left over from a stressful summer. Not only does it keep moisture and nutrients from the roots of your lawn, it can also harbour a plethora of nasty lawn diseases. Once you've aerated your lawn, consider booking a dethatching and power raking treatment shortly thereafter in order to help remove any excess yard debris from your property.
Overseed
Banish bald spots with an overseeding treatment mid-September, following your aeration and dethatching treatments. You'll want to support these new seeds with a nitrogen-rich fertilizer treatment and steady, frequent waterings from your inground irrigation system.
Late Fall Treatments
Just because the leaves are falling doesn't mean you get to fall behind on your lawn care in Burlington regiment. Here's what you'll need to remember come the beginning of October:
Rake it Up
Fall is an important season for photosynthesis. As such, your grass needs to see the light of day in order to soak up the sun. Rake and remove leaves from your lawn in order to let the sun shine through.
Irrigate to Encourage Growth
Your lawn will be looking for a few final, deep irrigation opportunities during the autumn. Try and ensure that your lawn gets at least one inch a week while it's still relatively warm outside.
One More Mow
Depending on the weather, you could still be mowing your lawn in late September and early October. When you do decided to cut your lawn for the final time, mow it just a tad bit shorter than normal. This will limit the amount of moisture the grains retains, which will make it less vulnerable to common winter diseases.
Drain Your Inground Irrigation System
This is an important final lawn care in Burlington step. Failure to drain your sprinklers could cause the pipes to crack and burst causing costly damages to your inground irrigation system.
Keep your cool season grass growing strong all autumn long. Contact the lawn care in Burlington experts at Nutri-Lawn today to schedule your late summer and early fall cool grass lawn services.