Kris Simmons has been with Nutri-Lawn for over 5 years.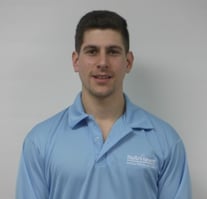 He is our Irrigation Technician, specializing in system design, installation, service maintenance, and repair services.
Kris grew-up in Dartmouth, spending his summers paddling on beautiful Lake Banook where he was a member of the Senobe Aquatic Club for over 15-years.
He enjoys all different genres of music. His favorite concert was Aerosmith in PEI (2008).
He is Landscape Ontario certified in Irrigation Repair & Troubleshooting in addition to Controllers, Sensors & Scheduling.
Kris is knowledgeable, friendly and helpful to our Irrigation customers. He recommends the new Toro Evolution Controller with Precision Soil Sensor.