We all lead busy lives and keeping our lawns healthy and green take time and energy. It's easier to leave your lawn care to the professionals, but with all the competition out there, how do you know which landscaping company is right for you? Here's some tips to help you choose the right lawn care company: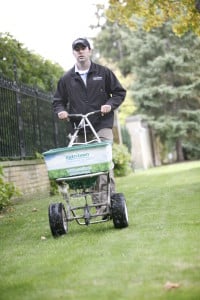 1) What do You Need?
Most lawn care companies provide many different services, but what do you need? Just mowing? Weed or insect control? Irrigation installation? Aeration, seeding or fertilization? Decide before contacting a company so you have a base to start from.
2) Reviews and recommendations
Who do your neighbours use for their lawn care? Have you checked the internet for reviews? Any company can look or sound good, but what is there service and quality actually like? It's best to hear from those who use them.
3) Free Estimate?
Beware of lawn care companies who don't offer a free estimate. It's important to know how much they will charge you and for what. You don't want to be taken for a ride by a lawn care company to will pile on unforeseen charges as they go.
4) What Do the Charges Include?
Do they offer a yearly contract or is there a per-service charge? Is the customer able to discontinue service without penalty? Is there a fee for service calls or are they included in the price? If they offer lawn care packages, make sure you know what's included.
5) What Is Guaranteed?
It's important to have a full understanding of what the lawn care company guarantees. What applications and treatments will be done to your lawn and when? Do they promise certain results and after how long? Is there a money-back guarantee if the results aren't as promised?
Here's how Nutri-Lawn Burlington stacks up:
Nutri-Lawn offers a wide array of services and they realize that having a healthy lawn goes beyond just keeping the grass trimmed. They offer fertilizer, weed and insect control, aeration, seeding, dethatching and many others and will come and do an estimate for free. They also offer irrigation services and shrub and tree care to keep your whole yard beautiful and healthy. Their lawn care programs offer different levels of care, with many different features, but all include courtesy calls and lawn health inspections.
Nutri-Lawn also has some fantastic testimonials and do their utmost to ensure the customer is satisfied by following the Customer Nourishment Experience. This makes sure that the customer is kept in the loop through the whole season. Nutri-Lawn always calls the customer the day before and begins with a face-to-face introduction and 27-point inspection to ensure your lawn is the healthiest it can be. You will get progress reports as well as an end-of-season inspection.
Not only does Nutri-Lawn pride themselves on top-notch customer service, with many repeat customers, they have led the industry with their use of organic, environmentally and ecologically sustainable weed and lawn care products. Let the results speak for themselves!
Interested in some of our other professional lawn services please click HERE, or to request a quote please click on the link below!