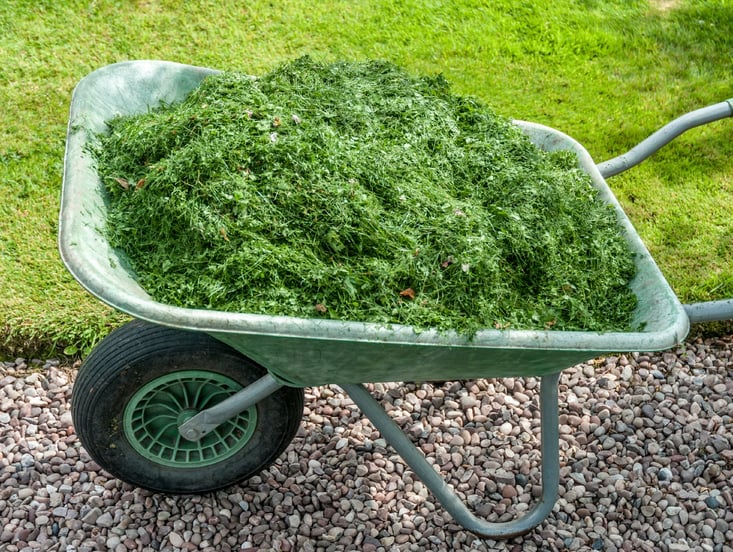 We talk a lot about the benefits of mulch here at Nutri-Lawn, but what exactly is this all-important landscaping product and how can you use it to improve your approach to Burlington lawn maintenance? Whether you're looking to enhance aesthetics or improve overall health, mulch can have a major impact on your lawn and garden.

Mulch Types
It's worth noting that there are a number of different kinds of "mulch" out there. Here at Nutri-Lawn, we deal primarily with organic mulch, or mulch that's made up of natural substances such as bark, wood chips, grass clippings, and pine needles. Inorganic mulches, which feature gravel, pebbles, and landscape fabric are used in landscape design projects for aesthetic purposes only.
Why Use Organic Mulch?
There are many reasons why you should incorporate organic mulch into your Burlington lawn maintenance practices. First, mulch helps lock moisture into your soil, therefore reducing your reliance on your inground irrigation system. Nutrient-rich mulch mixtures, like our organic topdressing treatment, can also help improve your soil's structure. As the organic elements decay in the soil, their nutrients are absorbed and distributed throughout the soil, bolstering your grasses root growth and overall durability.
Behold the Benefits of Mulch
A little bit of mulch as part of your Burlington lawn maintenance regiment can go a long way to improving the overall health of your lawn. Whether you're grass-cycling lawn clippings as food for your lawn, or counting on compost as a garden fertilizer, here are just a few of the benefits brought on by the use of mulch:
Healthier soil: Mulch encourages the growth of worms and other beneficial organisms that help to improve the structures of your soil and increase the availability of nutrients for plants. This ultimately means that your lawn or garden will require less fertilizers and additives to stay healthy.
Reduced sun exposure: A healthy layer of mulch will help protect your soil from exposure to the sun and wind. This, in turn, reduces evaporation, improving the efficiency of your inground sprinkler system.
Blocks weed growth: Studies have shown that a 5 centimetre layer of mulch can help cut a homeowner's reliance on herbicides by quite a lot.
Prevents soil compaction: Mulch helps to lock in moisture, which helps prevent soil from becoming compact during periods of heavy usage.
Burlington Lawn Maintenance Mulching Tips
Make the most of your next mulch treatment by following these tips from the Burlington lawn maintenance experts at Nutri-Lawn:
When should I apply much?
The best time lay mulch is right after you've planted or sown grass seed. This is because the mulch will help conserve moisture and spread nutrients.
What should I do before laying mulch?
If you're putting mulch in a flowerbed, it's best to weed the area first. Grass mulch treatments and overdressing applications should be applied after your lawn has been aerated and watered. This will help ensure that the nutrients are properly absorbed into the soil.
How thick should I apply my mulch?
This depends on the type of mulch. Generally speaking, our Burlington lawn maintenance experts recommend apply mulch in two to four inch layers. Mulch that is composed of grass clippings should not be deeper than two inches as these materials can often clump together, restricting water and air supply to the roots of your plants.
The more mulch, the merrier! Contact the Burlington lawn maintenance experts at Nutri-Lawn today to learn how mulch can benefit your turf today, tomorrow, and into the future.